No están muertos, como rezaba su web hace no mucho. Están como siempre, algo locos, y repletos de grandes ideas que plasman en discos.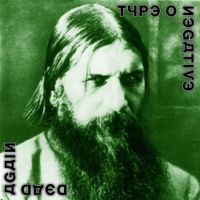 Sinopsis
Josh Silver Teclados, Voces, Productor
Kenny Hickey Guitarras, Voces
Johnny Kelly Bateria, Voces
Pete Steele Voz, Bajo, Productor
--
Tara Vanflower Vocals

1 Dead Again
2 Tripping a Blind Man
3 The Profits of Doom
4 September Sun
5 Halloween in Heaven
6 These Three Things
7 She Burned Me Down
8 Some Stupid Tomorrow
9 An Ode to Locksmiths
10 Hail and Farewell to Britain

Crítica


Puntuación
del crítico: 8

A mi Type 0 Negative me gustan especialmente cuando se agarran a su faceta mas lenta y romántica. Por ello el disco que más me gusta es "October Rust" (96). Por ello y porque fué el primer disco entero que tuve de ellos, ya que conocía los hits aparecidos en "Bloody Kisses" y poco más. Por ello también me gusta más "World Coming Down" que "Life is killing me", mas oscuro y depresivo el primero y mas enérgico y variado el segundo.


"Dead Again" comienza eminentemente doom, con esos ritmos lentos y pesados característicos, pero muta por medio del bajo de Steele en un tema muy hardcore, que si bien me agrada, no es el campo que mas me atrae en su música. Lo mismo ocurre con "Tripping a Blind Man", que sigue la senda mas veloz y aguerrida, hasta un cambio hacia la mediación que carga un riff de lo mas clásico y un estribillo bastante melódico que nos transporta a "October Rust", aunque para el final retoman la velocidad a saco.


Sensación hasta este momento: han profundizado en su onda mas hardcore, la de los primeros discos. Me acabará gustando el disco?
"The Profits of Doom", con su oscuro riff inicial me trae la respuesta. Inicio pesado como pocos (menudo riff tras el "Goodbye Cruel World" vociferado por Steele, salido de cualquier disco de funeral doom), se activa con un riff mas dinámico, vitaliza el tema, y lo vuelve a dejar en el letargo de un tempo más tranquilo y acogedor, que nos adomercerá hasta su final. Si que me va gustando.


"September Sun" es de lo mejor del album, con un precioso piano inicial, un Steele relajado y romántico y un comienzo que directamente nos remonta al fabuloso disco del 96 al que ya me he referido como mi favorito. Cuanto más avanza el tema , más me gusta, por su romanticsmo, esos toques de órganos tan característicos de Josh Silver, ese bajo distorsionado. Este es para mí realmente el mundo de T0N, teatral y desmesurado, como los determinados pasajes que "September Sun" nos entrega. A destacar el solo de Hammond.


Tras esta ración de doom made in Vinland, "Halloween in Heaven" nos devuelve la velocidad y el caracter mas gamberro, haciendo alusiones a glorias caidas como Lennon, Bonham, Hendrix o Morrison. Un tema muy cercano al anterior "Life is Killing me". Eso si, el cambio en su mediacion es puro Hardcore, escuela Brooklyn, pero con el contrapunto de la sugerente voz femenina. En alguna sala de su ciudad natal debe provocar pogos de campeonato. Y como en una montaña rusa, para bajo de nuevo con "These three things", que tiene el riff mas doom de su doscografia, me atreveria a decir, aunque buena parte de su largo (pero no pesado) minutaje transcurre por otros ritmos. A destacar el cambio que meten a la mediación de la canción, con esa pronunciación tan característica de Steele, y el guiño a los Beatles que apunta Kenny Hickey a la guitarra. "She burn me down" entrega unas partes de Steele hiper graves, y un estribillo de esos de "esto lo he escuchado antes", que se concretan en un tema muy atractivo aunque de tal vez demasiada duración. Especialmente bestia es "Some Stupid Tomorrow", con esos coros tan clasicos del hardcore-trash, y algo que me recuerda a sus paisanos (y genial grupo) Life of Agony. El riff inicial de "An Ode to Locksmiths" guiña al mundo de Sabbath, teniendo un espiritu mas clásico que el resto del disco, sobre todo el desarrollo final. Algo de eso tiene tambien "Hail and Farewell to Britain", bastante sabbathica en algunos momentos. Interesante , pero no apabulla.


"Dead again" es un disco en sí variado, toca todos los palos del universo T0N, y supone para mí un empujón en su carrera. Habrá quien le guste mas el anterior "Life Is Killing Me", no es mi caso, me parece mas brillante éste, sobre todo con mejores temas.

Ficha de Disco enviada por
pitopocho
el 14 de Agosto de 2007
video

visitantes