"Había una vez un niño llamado Hugo Cabret, que era yo. Ese niño creía ciega y desesperadamente que un autómata estropeado iba a salvarle la vida"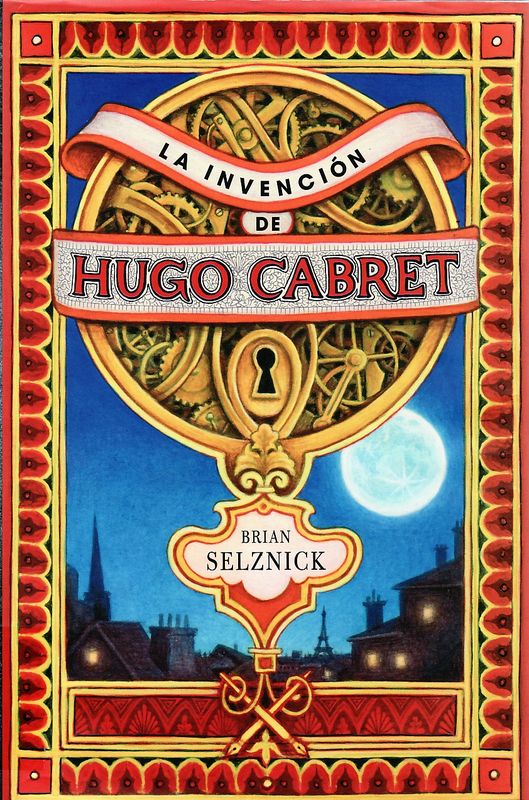 Sinopsis
Huérfano, relojero y ladrón. Hugo vive entre los muros de una ajetreada estación parisina de ferrocarriles. Si quiere sobrevivir, nadie debe saber de su existencia.

Sin embargo, un día tiene un descuido y es descubierto por una excéntrica chica, amante de los libros, y por un viejo y amargado juguetero. Y ya nada será como antes.

Un críptico dibujo, un valioso cuaderno de notas, una llave robada, un autómata y un mensaje oculto del difunto padre de Hugo son algunas de las claves de un intrincado misterio.

Crítica


Puntuación
del crítico: 8

Con 284 páginas de ilustraciones originales y combinando elementos de los álbumes ilustrados, las novelas gráficas y el cine, Brian Selznick expande los límites del concepto de novela, creando una nueva experiencia lectora.

Selznick reconoce que encontró la inspiración para crear el mundo de Hugo Cabret después de leer -Edison's Eve: A Magical History of the Quest for Mechanical Life-, de Gaby Wood, texto que, en palabras del propio Selznick, "contaba la verdadera historia de unos complejos autómatas a cuerda que fueron donados a un museo de París. La colección fue abandonada en un ático destartalado y, eventualmente, se tiró a la basura. Me imaginé a un chico encontrándose con máquinas".



Nos encontramos con Hugo Cabret, un niño aficionado a la mecánica que vive junto a su padre, que trabaja en un museo y un buen día le enseña a Hugo un curioso autómata que han donado al museo. Pero trágicamente, el museo se incendio y el padre de Hugo, sin poder escapar ya que el guarda lo en cerro sin querer en el museo, muere en dicho incendio. El tío de Hugo es el que le cuenta la noticia, y el que lo acoge en su casa, que no es más que una habitación escondida en los cimientos de una estación de trenes Parisina. También, el tío de Hugo le enseña su trabajo, el de cuidar los relojes cada día par que den la hora exacta en el momento exacto. Hugo, un buen día que su tío desparece de casa, se va a deambular por las calles de Paris con melancolía, y pasando por el ya carbonizado museo de su padre, descubre una cosa brillante, y resulta que es el autómata de su padre. Hugo lo recoge y lo lleva a su guarida para así poder acabar el trabajo que su padre no pudo, arreglar el autómata y descubrir si su padre le había dejado un mensaje. Para arreglarlo, Hugo roba piezas de una juguetería que hay en frente de la estación, pero se las tendrá que ver con el cascarrabias de su dueño, al mismo tiempo que conoce a una chica aficionada a los libros y al cine que le acompañara en esta aventura.



"La invención de Hugo" es algo más que un libro, es un canto de amor hacia los comienzos del cine (sobretodo el de Georges Méliès), ya que como si de una cinta muda se tratara, Brian Selznik nos narra la historia mediante ilustraciones (282 para ser exactos), y una narración que une ilustración con ilustración, con un dibujo en blanco y negro muy cuidado e impreso con la mayor calidad, en el que vemos dibujos del propio autor que nos narra los sucesos como si de un boceto de un guión de cine se tratara, mezclado con algunos curiosos hecho verídicos, como el accidente de tren de la estación de Montparnasee en Paris en 1895, y con ilustraciones de las películas de Georges Méliès entre otras.



Hacía tiempo que un libro no me enganchaba tanto ni me fascinaba, y es que su lectura es rápida (debido también a que la mitad del libro son ilustraciones de doble página), y no podía separar los ojos de lo que estaba leyendo y viendo, queriendo saber más y más de los maravillosos sucesos que le pasaban a nuestro protagonista Hugo y los personajes que se cruzan en su vida. Quizá el mayor pero, y lo que hace que no sea un libro redondo, es el final, algo precipitado y escaso para mi gusto, y aunque es lógico y emotivo, no tiene esa magia y misterio que se respiraba en las primeras tres cuartas partes del libro. Aún así, me he sentido como un niño leyéndolo, como un niño en el aspecto de cuando todo me entusiasmaba y estaba ansioso por descubrir cosas nuevas, y todo me hacia soñar y disfrutar por muy pequeño que fuese.



Actualmente, se ha adaptado el libro a película, pero parece ser que no es una simple adaptación, ya que como he dicho antes, el libro a veces resulta un guión cinematográfico, y Martin Scorsese ha sido el encargado de adaptarlo, recibiendo críticas mayoritariamente diciendo que es la mejor película del año. Me muero de ganas de que llegue el 24 de Febrero, fecha de su estreno en España, para disfrutarla.

☠JACKY☠

visitantes