Es hora de protestar con arte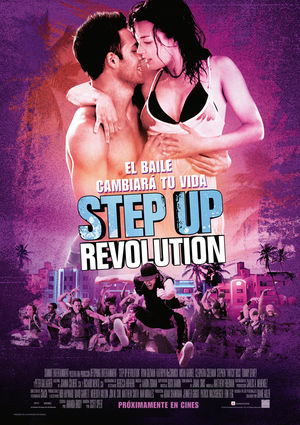 Step Up Revolution
Título original
Step Up Revolution
Nacionalidad
Estados Unidos de América
Año
2012
Género
Musical · Romantica
Formato
Color
Duración
99
Director
Scott Speer
Guión
Jenny Mayer
Fotografía
Karsten Gopinath
Música
Aaron Zigman
Producción
Offspring Entertainment, Summit Entertainment
Distribuidora
Buena Vista
Reparto
Adam G. Sevani, Kathryn McCormick, Ryan Guzman, Jordana DePaula, Stephen Boss, Jessica Guadix, Chadd Smith, Mari Koda, Mia Michaels, Christopher Scott, Karelix Alicea, Lynn Telzer, Morgane Slemp, Tommy Dewey, Cleopatra Coleman
Sinopsis
Emily, hija de un acaudalado hombre de negocios llega hasta Miami con el sueño de convertirse en bailarina profesional. Pero pronto se enamora de Sean, un joven que dirige un equipo de baile de competición. Sean se esfuerza por llevar a su equipo, MOB, para ganar un importante concurso y así obtener un patrocinador. La única posibilidad de que el barrio sobreviva es ganar el concurso de baile y así poder hacer realidad sus sueños, a la vez que conservan sus hogares.

Crítica

Puntuación
del crítico: 7

Desde que empezó la saga Step Up ha ido incrementando sus espectaculares escenas de baile y esta cuarta entrega de Step Up es puro espectáculo y la que más de la saga llevando el nivel de espectacularidad al extremo, implantando muy bien las escenas de baile con la trama de la película.

En esta ocasión, un adinerado y poderoso hombre de negocios, el Sr. Anderson, interpretado por Peter Gallagher actor que siempre hemos visto en diversas películas, series y telefilms, las más conocidas su aparición en la oscarizada American Beauty o la serie O.C., quiere construir un recinto turístico destruyendo un barrio de Miami sin importarle destruir las casas y negocios de la gente que allí vive, pero es entonces cuando un grupo de bailarines conocido como -The Mob- que han estado haciendo "apariciones" públicas con sus espectaculares actuaciones, intentaran detener esto con un nuevo tipo de espectáculo al que denominan 'Arte protesta', a la que se unirá la propia hija de Anderson, harta de que su padre no la deje libertad para bailar.



La idea aunque es buena, un nuevo tipo de protesta mediante flashmobs y bailes en modo de expresión corporal, pasa a un segundo plano siendo el principal espectáculo las coreografías y el baile que es lo que principalmente queremos ver.

El personaje de Moose, el más querido de la saga y el único que ha logrado participar en varias entregas teniendo bastante protagonismo en la segunda y tercera entrega, aquí hace un pequeño cameo pero se deja notar.

A cada película de Step Up ha ido recaudando más que la anterior y en cada película se nota la subida de presupuesto a la anterior entrega, aquí mostrándonos unas escenas hermosísimas que si las ves en 3D es para alucinar, como toda la escena del museo, y es que me quede flipada con la hermosura de sus escenas y con la imaginación del director o quien haya ideado la escena y que el 3D hace que aumente en espectacularidad, no me puedo quitar de la cabeza la escena de las bailarinas con esas lámparas como medusas blancas emergiendo de la pantalla, todo un bello espectáculo, y a los bailarines y chispazos a punto de tocarte la cara en escenas de vértigo.



También es la única película de Step Up que me ha logrado emocionar, y no por su historia, sino por la escena de baile final entre los dos protagonistas, con unos movimientos y una escenografía muy emotiva y lograda, se nota que la protagonista es una bailarina profesional y que lo siente, aunque también ayuda el tema To Build a Home de The Cinematic Orchestra que te pone los pelos como escarpias con solo escucharlo.



Una cuarta entrega muy entretenida y sobre todo espectacular, para mí la mejor de la saga, puro espectáculo.

*´¨)
¸.•´¸.•*´¨) ¸.•*¨)
(¸.•´ (¸.•` ¤ Elvira
Ficha de Película enviada por
Chica_Glitter
el 13 de Septiembre de 2012
video

visitantes