Dentro de este edificio se encuentra el más oscuro de los secretos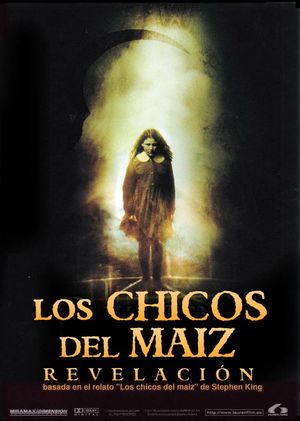 Sinopsis
Una mujer llamada Jamie ( Claudette Mink ) llega a Omaha, Nebraska, después de que su abuela no le contestase al teléfono tras numerosos intentos. El bloque de edificios está aparentemente vacío, y Jamie se reúne con los vecinos de su abuela para investigar. Cuando un detective de la policía se ve involucrado, ella descubre que el complejo de apartamentos en realidad reside en el terreno del culto satánico original de los niños del maíz.

Crítica

Puntuación
del crítico: 4

De los productores de 'Dracula 2000' y 'Hellraiser Infierno' nos llega otra secuela más de los chicos del maíz, una saga que para basarse en un relato corto de Stephen King, ha dado para siete secuelas, siendo esta del 2001 la última hasta la fecha, ya que en el 2009 se hizo un remake y en el 2011 una precuela llamada 'Génesis'.



Esta séptima entrega, nos proponía contarnos una revelación importante en la saga, pero poco hay que contar, y nos encontramos ante otra floja secuela como la mayoría de la saga, pero que queréis que os diga, me entretuvo y me divertí bastante viéndola, es un autentico sin sentido, pero endiabladamente divertida. La ambientación recuerda mucho a las películas de Freddy Krueger, donde los colores rojo y verde priman en todo el metraje.



La historia nos cuenta como una mujer va a visitar a su abuela ya que está preocupada porque esta no contesta a sus llamadas telefónicas. Al ir al edificio, se encontrara que está situado en medio de una plantación de maíz, algo muy normal por supuesto; que el edificio está prácticamente en ruinas, es más, parece una atracción de la casa del terror, algo idóneo para que viva una anciana; y para arrematar, los vecinos parecen sacados de un psiquiátrico, algo lógico viendo el lugar donde viven. Por otra parte, tanto el edificio como el pueblo, aparte de parecer abandonados, está plagado de niños raros que no dejan de mirarte con cara rara. Teniendo todo esto sobre la mesa, más de uno se habría percatado de que algo no muy normal está pasando, pero la protagonista al principio solo saca la conclusión de que los padres son unos irresponsables, y darles dinero a unos niños con ansias de matar para que puedan jugar al videojuego 'House of the Dead' es solo una divertida anécdota. También hay que tener los huevos bien grandes para no percatarse ante de las condiciones tan deplorables en las que está viviendo tu abuela, pero claro, hay que esperarse algo ilógico en las secuelas de los chicos del maíz.



Los actores poco pueden hacer con sus personajes, más que interpretarlos como buenamente pueden, incluyendo a un Michael Ironside en un personaje que no sabes muy bien que pinta en la película y que simplemente esta para tener una cara famosa en el reparto. El resto pues una sucesión de muertes a cada cual más risible (creo que la escena de la bañera se lleva la palma) para llegar a una conclusión que puede satisfacer mínimamente a los seguidores de la saga, pero que para los que no la conozcan es mejor que busque en otro sitio.

o.O VoLdEmOrT O.o
Ficha de Película enviada por
Voldemort
el 19 de Enero de 2013
video
visitantes