El miedo sale... a por la chica de al lado.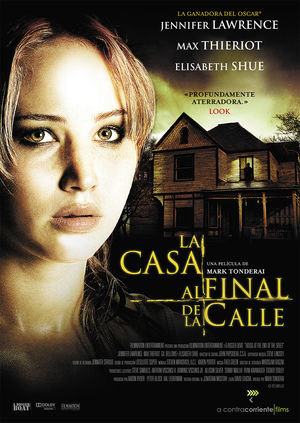 La casa al final de la calle
Título original
House at the End of the Street
Nacionalidad
Reino Unido
Año
2012
Género
Suspense · Terror
Formato
Color
Duración
101
Director
Mark Tonderai
Guión
David Loucka, Jonathan Mostow
Fotografía
Miroslaw Baszak
Música
Theo Green
Producción
A Bigger Boat / FilmNation Entertainment / Relativity Media
Distribuidora
Rogue
Reparto
Jennifer Lawrence, Elisabeth Shue, Max Thieriot, Nolan Gerard Funk, Gil Bellows, Krista Bridges, Allie MacDonald, James Thomas, Jonathan Malen, Jon McLaren, Joy Tanner
Sinopsis
Cuando una chica adolescente se muda junto a su madre a un nuevo pueblo, descubre que su casa esta frente a otra en la que tuvo lugar un doble asesinato. Las cosas comenzarán a complicarse cuando la joven se hace amiga de un chico que sobrevivió a la masacre.

Crítica


Puntuación
del crítico: 3

La casa al final de la calle se realizo a primeros del 2012 pero no llego a España hasta hace bien poco.

La causa de este repentino lanzamiento supongo que será, el tener como actriz protagonista a Jennifer Lawrence mas conocida por 'Los juegos del hambre' o 'El lado bueno de las cosas'.
A mi ya me interesaba esta cinta desde que supe de su existencia ya hace mas de un año, desde que vi la opera prima de su director que no estuvo nada mal, se llamaba 'Hush' pero aquí en España se conoce como 'Pánico' y me pareció bastante decente.

Con esta cinta Mark Tonderai me a decepcionado bastante y ahora entiendo el por que de haberla tenido apartada hasta que su actriz protagonista haya llegado al estrellato.

La película esta catalogada como terror, pero realmente no es terror, es mas suspense, un thriller vamos, con un punto de terror que nos quiere hacer creer su director ya que en ningún momento causa ese efecto.

El guión es algo flojo, se queda a medias en su desarrollo y siempre opta por lo fácil, su director no consigue en la mayoría de su metraje crear tensión, por todo lo demás no esta mal, pero no se la aconsejaría a nadie.

A mi al menos me aburrió y eso que no esperaba nada.

video

visitantes