Nunca creas lo que publiques....
Nunca publiques lo que creas.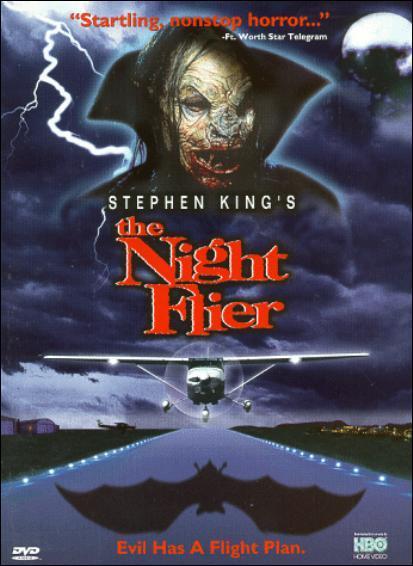 The Night Flier (El Aviador Nocturno)
Título original
The Night Flier
Nacionalidad
Estados Unidos de América
Año
1997
Género
Suspense · Terror
Formato
Color
Duración
93
Director
Mark Pavia
Guión
Stephen King, Mark Pavia
Fotografía
David Connell
Música
Brian Keane
Reparto
Miguel Ferrer (Richard Dees), Julie Entwisle (Katherine 'Jimmy' Blair), Dan Monahan ( Merton Morrison), Michael H. Moss (Dwight Renfield), John Bennes (Ezra Hannon), Beverly Skinner (Selida McCamon), Rob Wilds (Buck Kendall), Richard K. Olsen (Claire Bowie), Elizabeth McCormick (Ellen Sarch), J.R. Rodriguez (Terminal Cop #1), Robert Casey (Terminal Cop #2), Ashton Stewart (Nate Wilson), William Neely (Ray Sarch), Windy Wenderlich (Henry Gates), General Fermon Judd Jr. (Policeman)
Sinopsis
Richard Dees es periodista de un magazine dedicado a hechos sobrenaturales y macabros. Es un personaje amargado y agresivo, ya de vuelta de todo. Un dia, una noticia llega a la redaccion: unos asesinatos muy extraños. Tambien llega una nueva periodista, con la que Richard no hace muchas migas. La periodista intenta hacer amistad con el, y le pide consejos, pero la actitud de Richard no es la mas adecuada, asi que desiste de ello.



El jefe del magazine, un tipo histrionico, y al que todo le vale para obtener una buena noticia (al igual que Richard) ordena un articulo sobre unos asesinatos cometidos en un aeropuerto, al parecer, por un extraño piloto que navega en una avioneta oscura Cessna. Richard comienza a investigar, y segun la descripcion que de el hace un testigo, era una persona alta, con una capa oscura. Pero tras ahondar mas en la investigacion, va descubriendo que el tal piloto no es una persona corriente, viendose envuelto en una trama en que su obsesion sera descubrir quien es, y por qué parece conocer todos sus pasos.



¿Quien sera el que vuela de noche en un avion Cessna de alas negras, aterriza en pequeños aeropuertos y asesina brutalmente a los residentes locales? Richard, ayudado por la joven periodista, empieza a sospechar que se ha metido en un asunto que se le puede ir de las manos.

Crítica


Puntuación
del crítico: 5

Pelicula basada en el relato corto de Stephen King incluido en su libro "Skeleton Crew", y que fue sacada directamente para el mercado del video.
Con una buena atmosfera, y muy buenos momentos de suspense como cuando el aviador aterriza en casa de unos abuelos, y gore como en el vomitivo final.
Buenas interpretaciones, sobre todo Miguel Ferrer que ya protagonizo otra película televisiba "Apocalipsis" basado tambien en un relato de Stephen King.
La fotografia es buena y la musica un buen acompañamiento para el suspense.

Ficha de Película enviada por
Jack Skeleton
el 13 de Diciembre de 2004
video

visitantes