Orgullo y deber.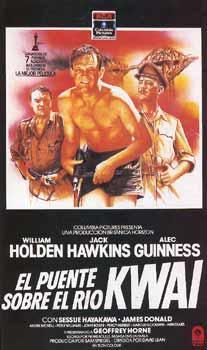 Cartel de la película en España
El puente sobre el río Kwai
Título original
The bridge over the river Kwai
Nacionalidad
E.E.U.U
Año
1957
Género
Belico
Formato
Color
Duración
161
Director
David Lean
Guión
Michael Wilson, Carl Foreman
Fotografía
Jack Hildyard
Música
Malcom Arnold
Producción
Columbia Pictures
Reparto
William Holden, Alec Guinness, Jack Hawkins, James Donald, Sessue Hayakawa, André Morell, Geoffrey Horne, Peter Williams, John Boxer, Percy Herbert, Harold Goodwin, Ann Sears, Heichiro Okawa.
Sinopsis
Un grupo de prisioneros ingleses es obligado a trabajar indistintamente del rango en la construcción de un puente en un campo de concentración japonés. El coronel, levantará por encima de todo el orgullo, y se negará a que los oficiales de alto rango trabajen, consiguiéndolo finalmente y tomándose la construcción del puente como un trabajo personal.

Crítica

Puntuación
del crítico: 10

Obra maestra indiscutible del cine. Atípica película bélica sin apenas escenas de acción, centrándose más bien en dilemas filosóficos de los personajes : el orgullo y el deber.
Mientras que el personaje de Guinness pone por encima su orgullo de su deber, el coronel japonés deberá agachar la cabeza para cumplir su deber. El personaje de Holden, un hombre que ve la guerra como algo estúpido y sin sentido, será obligado por el deber.
Con escenas de gran fuerza, como la última (que no comentaré para los que no lo hayan visto), cierto carácter antibelicista (sin ser un panfleto) y una melodía archiconocida, El puente sobre el río Kwai es una de las grandes películas del cine, todo un símbolo.


Ah! y las interpretaciones...que decir, sobre todo de Sir Alec Guinness... su incredulidad en la escena final es por poco real.

Waster
visitantes