¿A La Tercera Ira La Vencida?...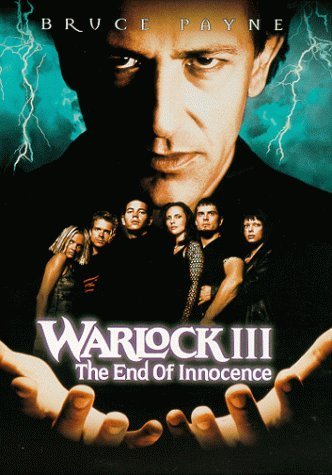 Portada DVD
Warlock: El Fin De La Inocencia
Título original
Warlock III: The End of Innocence
Nacionalidad
Estados Unidos de América
Año
1999
Género
Accion · Fantastico · Terror
Formato
Color
Duración
91
Director
Eric Freiser
Guión
Bruce David Eisen, Eric Freiser
Fotografía
Andrew Turman
Música
David Reynolds
Producción
Trimark
Distribuidora
Filmax Internacional
Reparto
Bruce Payne (The Warlock/Phillip Covington), Jan Schweiterman (Jerry), Rick Hearst (Scott), Boti Ann Bliss (Robin), Eamon Draper (Mr. Butterfield), Catherine Siggins (Mrs. Miller), Majella Corley (Young Kris), Philippe Zone (Handyman), Ann Marie Byrne (Old Woman), Paul Francis (Michael), Ashley Laurence (Kris Miller), Angel Boris (Lisa)
Sinopsis
Kris se quedó huérfana siendo sólo una niña. Nunca ha sabido nada de su familia ni de su pasado hasta el punto de que su existencia es prácticamente un libro en blanco. Ahora, en plena juventud, se convierte en la heredera de una mansión del siglo XVI. Allí espera descubrir gran parte de sus páginas familiares, orígenes y recuerdos en blanco

Crítica


Puntuación
del crítico: 3

Y como no hay dos Sin tres...Aqui la Tenemos,Warlock III: El Fin de la Inocencia,que viene a completar la Historia del Malvado Brujo con ansias de destruir la Tierra...
Como novedad nos encontramos que el "Warlock Original",Julian Sands,decidio tomarse unas vacaciones,pasandole el muerto de destruccion mundial a Bruce Payne.Evidentemente todos sabemos que poner cara de enfado perpetuo no es dificl y en eso,Payne,Tiene merito,acercandose a esos registros que Sands le dio en un principio al personaje.



La Direccion Corre a Cargo de Eric Freiser,con ayuda de Bruce Payne.Lamentablemente no solo cambia el protagonista original sino tambien el planteamiento al que nos tenia acostumbrados el Brujo.Es Elogiable como con tan poco presupuesto intenta sacar el maximo rendimiento a las escenas,y en los primeros 30-40 minutos encontramos un ambiente bueno,opresivo,oscuro,con una manejo de camara de films clasicos,insertando algunos trucos en la misma,en la iluminacion,etc.Dando un fabuloso ambiente a la casa,colocandola al nivel de las casas encantadas clasicas.


Pero a partir de aqui,todo se convierte en un desproposito,girando rotundamente hacia un terror totalmente distinto,un "Teen Terror-Movie",apoyandose en los ya más que consagrados cliches y topicos del mismo,con muy poca chicha que salvar,exceptuando esa primera parte,que deja gran sabor de boca...aunque despues se agrie,y empieze a aburrir.



Con respecto a las Interpretaciones.Bruce Payne,lo hace realmente bien,ha sabido captar los matices del personaje,pero dotandolo de personalidad propia,quizas incluso de más mala leche,pero aunque pensamos "No Es Julian Sands",sabe hacer lo mismo que Sands,e incluso a veces mejor.

Ashley Laurence,tambien es destacable,una buena interpretacion dentro de un producto mucho más B que su antecesora.Su Personaje tiene matices,tiene garra,un algo,no se limita a ser la tipica "mujer-asustada-corre-enseña-tetas" sino que le hecha un par de ovarios al asunto,y se enfrenta cara a cara con Warlock.


El resto de Actores no son destacables,pasaban por ahi,le intentan dar más protagonismo a la exuberantemente y de pechos voluptuosos Angel Boris,pero nada,ella tambien pasaba por ahi.

Respecto a la musica,ambiental,quizas un poco "Midi",pero no es molesta,no hiere,ni tiene sonidos raros tipicos de feria de pueblo.Esta de fondo,ambientando la Masacre.
Los Efectos especiales son otro cantar,si los de "Warlock" eran Pobres,y los de "Warlock:El Apocalipsis Final" seguian esa linea de pobreza,los de "Warlock:El Fin De La Inocencia",Lo son aun más.No tiene practicamente ningun efecto destacable,de echo,no tiene casi efectos,algo bastante triste,y solo se puede mencionar,la vision del infierno...Las Muertes...estan muertos,pero de sangre o muertes cruentas con visceras por las paredes,Olvidense.



En Definitiva, Un producto Menor, que Cierra la Saga Warlock,y que baja Bastante el Liston al Intentar Adaptarse a la Nueva Ola de Terror Teen... Mal Hecho.

FuNeBRiS
Ficha de Película enviada por
Funebris
el 30 de Octubre de 2004
video
visitantes