"No es sólo un cuento... ¿verdad?"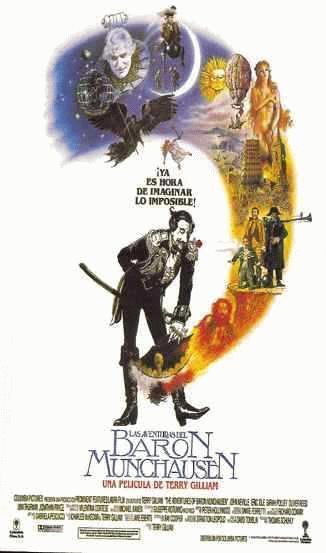 Las aventuras del Barón Münchausen
Título original
The Adventures of Baron Münchausen
Nacionalidad
Reino Unido
Año
1988
Género
Fantastico
Formato
Color
Duración
126
Director
Terry Gilliam
Guión
Terry Gilliam & Charles McKeown
Fotografía
Giuseppe Rotunno
Música
Michael Kamen
Reparto
John Neville, Sarah Polley, Eric Idle, Uma Thurman, Robin Williams, Charles McKeown, Winston Dennis, Jack Purvis, Valentina Cortese, Oliver Reed, Jonathan Pryce, Bill Paterson, Sting
Sinopsis
En un pueblo europeo sitiado por las tropas turcas enemigas durante el siglo XVIII, se representa una obra en torno a las fantásticas aventuras del fabulador Barón Munchausen, apoyada con un efectivo espectáculo visual. Cuando en el escenario un actor representa la curiosa personalidad del hombre más mentiroso del mundo, el Barón Munchausen, aparece ante el pequeño grupo de actores y ante el público presente el auténtico Munchausen con la intención de salvar a la población de los invasores. Nadie le cree, excepto Sally, la hija del empresario. Tras salir del pueblo en un peculiar globo, confeccionado con ropa interior femenina, el barón va en busca de sus extraños amigos, Berthold, Gustavus, Albrecht y Adolphus, cada uno de ellos poseedor de un particular y extraño poder.

Crítica


Puntuación
del crítico: 9

Incomprendida maravilla de Terry Gilliam. Una película que recupera el arte de contar cuentos y te transporta a un mundo de fantasía donde todo es posible.
Se trata de una nueva versión de un clásico del cine de aventuras fantásticas en la que Gilliam despliega toda su imaginería visual y delirio en una historia entrañable, llena de personajes memorables y con un sentido del humor genial.
Bien realizada, con un apartado visual excelente y estupendos efectos. Todo derrocha originalidad y es un acercamiento al proyecto soñado de Terry Gilliam "El hombre que mató a Don Quijote" que lamentablemente ya nunca hará.
Como ese rodaje, el de "Las aventuras del Barón Münchausen" también fue muy accidentado y para colmo fue un fracaso en taquilla que deprimió mucho a Terry. No obstante luego volvería con fuerza para filmar "El rey pesacador".
Las actuaciones son geniales, especialmente la de John Neville, fantástico como el Barón. Destaca la presencia de una infante Sarah Polley, una bellísima Uma Thurman, Oliver Reed y otros actores habituales de Terry como Eric Idle y Jack Purvis.
Fue nominada a cuatro Oscars (diseño de producción, maquillaje, dirección artística y efectos visuales), lastima que no se llevó ninguno.
Parte de la película se rodó en localizaciones españolas, como las playas de Almería o las ruinas de la ciudad de Belchite (Zaragoza).
Entretenidísima y muy divertida. Un manjar para los aficonados a las aventuras y el fantástico, pasado por el tamiz de un cineasta sin igual como Terry Gilliam.

Davis
Ficha de Película enviada por
DAVIS
el 9 de Marzo de 2005

visitantes