La secuela de "Como conquistar Hollywood"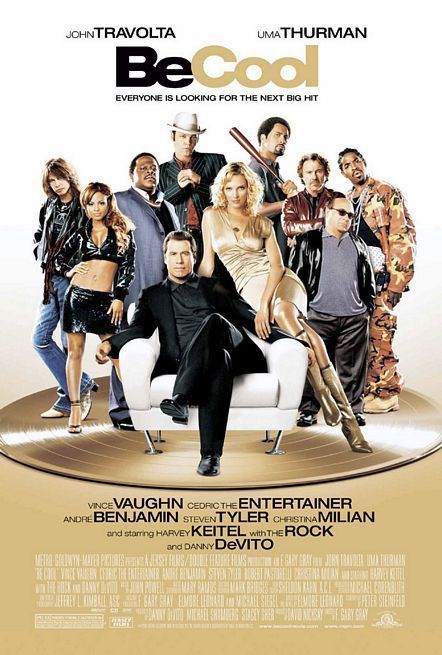 Sinopsis
John Travolta vuelve a encarnar a Chili Palmer en BE COOL, la secuela de la exitosa comedia "Cómo conquistar Hollywood". En esta ocasión, Chili es otro tipo de "Rey Midas"; abandona la industria del cine para aplicar su talento de "chico listo" y su táctica negociadora en el sector discográfico para promocionar a una nueva cantante, Linda Moon. Por el duro camino hasta la fama se topara con un montón de curiosos individuos...

Crítica

Puntuación
del crítico: 6

Según dicen "Como conquistar Hollywood" se ha convertido en un film de culto, al menos en Estados Unidos, y ese es el motivo de esta secuela. Personalmente el film original ya en su momento me pareció entretenido, pero tampoco nada brillante. De una idea inicial muy divertida no sacaba todo el partido que podía haber sacado, quedándose finalmente en un film simpático y agradable, y ya está. La primera entrega, realizada cuando aún se vivía el fenómeno "Pulp Fiction", se quedaba muy lejos de lo conseguido por el film de Tarantino.



Esta segunda entrega cinematográfica de las aventuras de Chili Palmer funciona igual que la primera, es decir, a base de multitud de referencias y chistes con mayor o menor gracia (por ejemplo, el baile de los dos protagonistas, que parece que quiera hacer recordar al que tuvieron en "Pulp Fiction" (aunque a años luz de aquel) o que el personaje de The Rock, actor bastante masculino, sea homosexual (él es el mejor secundario del film); o el personaje de Vince Vaughn y su obsesión de comportarse como un negro (lo que al principio cae simpático, pero de lo que se abusaba demasiado pasado un rato)). Por lo demás se le puede echar en cara cierto histrionismo en según que personajes (el de Vince Vaughn sin ir más lejos), y una historia que, al igual que su predecesora, parte de un buen punto de partida (los chanchulleos del mundo de la música) pero acaba siendo simplemente un entretenimiento (pese a todo bastante bueno y con momentos graciosos) pero simple entretenimiento al fin y al cabo.



CALIFICACION: *** (entretenida)

LO MEJOR: Ciertos chistes más o menos sutiles, así como personajes que saben el tipo de película que es como John Travolta o The Rock (aunque el personaje de Dabu también tiene dos o tres momentos muy hilarantes). Además, ciertos paralelismos también resultan simpáticos (y es que la cantante a la que promociona Chili Palmer, Linda Moon, me recordó bastante a Beyonce Knowles).



LO PEOR: Quiere ser tan "cool" (o sea, molona, chula, moderna, como se quiera traducir el término) que en más de una ocasión se pasa de la raya.

Oscar Ferrer by Dusk
Ficha de Película enviada por
dusk
el 8 de Abril de 2005
video
visitantes