Aventuras y Dragones en la Edad Media... con Anillo de por medio ¿A qué me recuerda esto?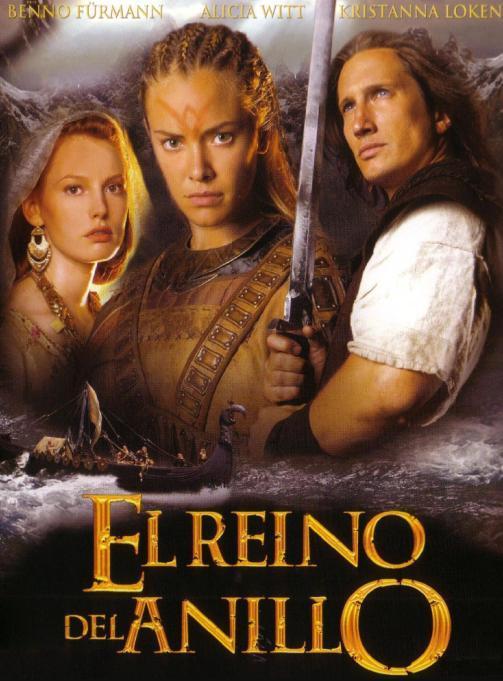 El Reino del Anillo
Título original
Ring of the Nibelungs
Nacionalidad
Alemania · Estados Unidos de América · Italia · Reino Unido
Año
2004
Género
Accion · Aventuras · Drama · Fantastico
Formato
Color
Duración
184
Director
Uli Edel
Guión
Uli Edel, Peter Morwood, Diane Duane
Fotografía
Elemér Ragályi
Música
Ilan Eshkeri, Ian Honeyman, Andrew Raiher
Distribuidora
Columbia Tri Star Home Video
Reparto
Benno Fürmann, Kristanna Loken, Alicia Witt, Julian Sands, Samuel West, Max von Sydow, Robert Pattinson, Mavie Hörbiger, Aletta Bezuidenhout, Sean Higgs, Götz Otto, Ralf Moeller, Tamsin MacCarthy, Leonard Moss, Ryan Slabbert
Sinopsis
En la línea de El Señor de los Anillos, VOLKER ENGEL (efectos visuales de Godzilla e Independence Day) produce la historia del joven herrero Sigfrido (Benno Fürmann, Anatomia), quien, sin saber que es el heredero de un reino invadido, se hace popular entre su gente al acabar con su mayor enemigo, el dragón Fafnir. Sigfrido ignora la maldición que pesa sobre la recompensa, un enorme tesoro, que ahora pone en peligro su amor por la hermosa reina guerrera escandinava Brunilda (CRISTANNA LOKEN, Terminator 3: La rebelión de las máquinas).

Crítica

Puntuación
del crítico: 6

Una gran superproducción para televisión en la que destaca la guapísima Kristanna Loken (Dennise Richards en Rubia) , la mala de Terminator 3, como la Reina Brunilda, y a la pelirroja Alicia Witt (la prota de Leyenda Urbana) como Kriemhild.
La historia mezcla aventura con amor, un amor equivocado, las dos parejas protagonistas están equivocadas a la fuerza por la manipulación de los sentimientos, algo que al final acabara trágicamente.
La ambientación esta conseguida, parece que estas en la época que se desarrolla, con un buen vestuario, y unos efectos especiales bastante buenos, ese Dragón esta muy bien realizado.
Al ser dos episodios para la telivisión si los ves seguidos al final se hace muy pesada, la película empieza con fuerza y pierde un poco de ritmo en la segunda mitad.

No me entusiasmo demasiado pero tampoco me disgusto.

Elvira

visitantes