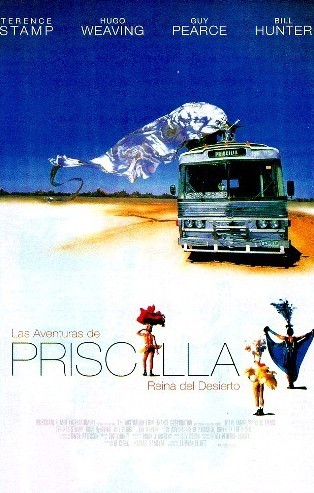 Las aventuras de Priscilla, reina del desierto
Título original
The Adventures of Priscilla, Queen of the Desert.
Nacionalidad
Australia
Año
1994
Género
Comedia
Formato
Color
Duración
98
Director
Stephan Elliott
Guión
Stephan Elliott
Fotografía
Brian J. Breheny
Música
Guy Gross
Reparto
Terence Stamp, Hugo Weaving, Guy Pearce, Bill Hunter, Rebel Russell, John Casey, June Marie Bennett, Murray Davies, Frank Cornelius, Bob Boyce, Leighton Picken, Maria Kmet, Joseph Kmet, Alan Dargin, Julia Cortez
Sinopsis
Tres artistas de cabaret de Sidney son contratadas para actuar durante 4 semanas en un hotel de Alice Springs, en medio del desierto rojo de Australia. Una gran aventura les espera, pero una cosa es atravesar el país en autobús, dejando atrás todos sus problemas, y otra llegar a su destino sanas y salvas. Felicia y Mitzi son reinas del Drag y Benardette transexual. Inician un periplo de dos semanas, con música sonando a toda pastilla y el autocar repleto de un llamativo vestuario y zapatos de plataforma.

Crítica


Puntuación
del crítico: 9

Genial película, para mí una de las mejores comedias de la década de los 90.

Los actores se la jugaron a la hora de elegir esos papeles, (Hugo Weaving y Terence Stamp sobre todo),cuando vi El señor de los anillos
me imaginaba a Hugo Weaving vestido de Drag-queen XD.

Lo dicho, una película de los más original y totalmente recomendable.


visitantes