Ha llegado la hora.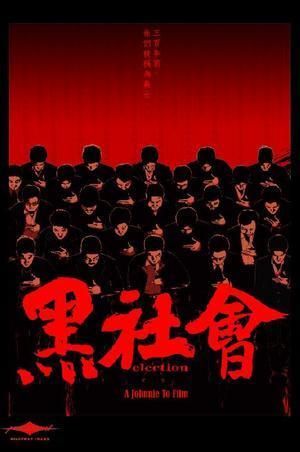 Election
Título original
Hak seh wui
Nacionalidad
Hong Kong R.A.E
Año
2005
Género
Genero_Negro
Formato
Color
Duración
100
Director
Johnnie To
Guión
Nai-Hoi Yau, Tin-Shing Yip
Fotografía
Siu-keung Cheng
Música
Lo Tayu
Producción
Milkyway Image (HK)
Reparto
Simon Yam (Lok), Tony Leung Ka-Fai (Big D), Louis Koo (Jimmy), Nick Cheung (Jet), Lam Suet (Big head), Cheung Siu Fai (Sr. So), Lam Ka Tung (Kun), Wong Tin Lam (Tío Teung), Tam Ping Man ((Tío Cocky), Maggie Shiu (Mujer de Big D)
Sinopsis
Ha llegado la hora, como sucede cada dos años, para los miembros más veteranos de la tríada más antigua de Hong Kong –la Wo Shing Society– de elegir a su nuevo presidente. Las rivalidades feroces emergen entre los dos candidatos a hacerse con el cargo. Lok (Simon Yam) es el favorito para ganar, pero su rival, Big D (Tony Leung Ka-Fai), no se detendrá ante nada para que eso cambie, incluyendo ir en contra de años de tradición e influenciar el voto con el dinero y la violencia. Una lucha por el poder que amenaza con partir a la tríada en dos. ¿Podrá la Wo Shing Society mantener el equilibrio entre sus métodos tradicionales de fraternidad y el mundo de los negocios del siglo XXI?

Crítica


Puntuación
del crítico: 9

Si mal no recuerdo "Breaking News" ha sido la única película de To estrenada en España junto con "Election", y me da la impresión que nos estamos perdiendo buenas películas...

En este caso To aborda el tema de las Tríadas de Hong Kong pero se desmarca afortunadamente del enfoque que estamos acostumbrados a ver del género negro de Hong Kong. Con sobriedad y elegancia se acerca a las democráticas elecciones del presidente de una tradicional sociedad criminal, sin disparos ni armas de fuego, sólo los movimientos y estrategias de los candidatos al poder y de sus eventuales aliados, con alguna que otra "explosión de violencia" (curiosa) y algún golpe de humor. Parece que asistimos a un documental sobre esas elecciones (o sobre una carrera contrarreloj) ya que todo lo que rodea a la historia es muy realista (incluso en el funeral aparece un auténtico criminal) pese a la apariencia en su estética a la serie B (puede que entren en juego mis prejuicios como espectador occidental).



En fin, poca acción en una película donde se mezcla la tradición con la modernidad, el honor con la traición, la fidelidad y la venganza. Una película de tonos grises

video
visitantes