Ella es la Única Chica Galáctica que puede Salvar la Estación Espacial.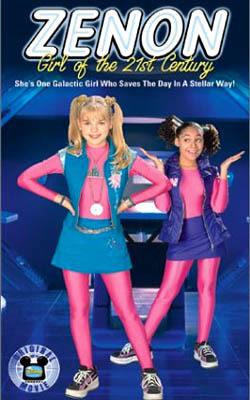 Zenon: La Chica del Milenio
Título original
Zenon: Girl of the 21st Century
Nacionalidad
Estados Unidos de América
Año
1999
Género
Aventuras · Comedia · Fantastico
Formato
Color
Duración
97
Director
Kenneth Johnson
Guión
Stu Krieger
Fotografía
Ron Orieux
Música
Sabelle Breer, Phil Marshall, Kristina Rex
Producción
Disney Channel
Distribuidora
Walt Disney
Reparto
Kirsten Storms, Raven-Symoné, Stuart Pankin, Holly Fulger, Frederick Coffin, Bob Bancroft, Greg Thirloway, Phillip Rhys, Gwynyth Walsh, Lauren Maltby, Danielle Fraser, Brenden Jefferson, Blair Slater, Zach Lipovsky, Neil Denis, Gregory Smith, Sue Astley, Paul Batten
Sinopsis
Año 2049. Zenon es una traviesa niña de trece años que ha vivido desde los cinco con sus padres en una estación espacial. Debido a su mal comportamiento, es enviada como castigo a la Tierra. Con la ayuda de su mejor amiga, Nebula, y de un amigo terrestre, Greg, la niña descubre que hay un virus informático que puede provocar la destrucción total de la estación espacial.

Crítica


Puntuación
del crítico: 5

Típica película de la Disney Channel de quinceañeras, esta vez la historia transcurre en una nave espacial, en la que una chica revoltosa se mete en lios, por lo que es enviada a la tierra y como no otra vez las cosas serán diferentes y se tendrá que adaptar, la misma historia en diferente lugar.
Esta basado en un libro del mismo titulo del cual no se si será muy fiel ya que la peli es muy cursi.
Destacar a la simpatica Raven que ahora triunfa con su serie Raven, y a Gregory Smith, el chico de Everwood.
Es una ñoñeria pero tengo que reconocer que cuando la vi hace 5 años años me gusto, incluso se han llegado a hacer 3 películas.
Recomendable para quienes les gusten las películas Pop de adolescentes Rosas.

Elvira
Ficha de Película enviada por
Chica_Glitter
el 28 de Febrero de 2006
visitantes