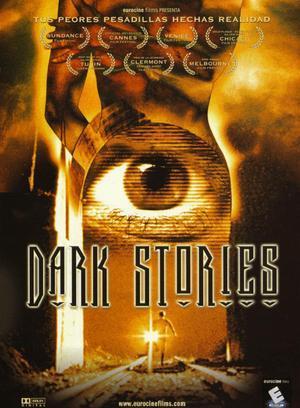 Dark Stories
Título original
Dark Stories: Tales from Beyond the Grave.
Nacionalidad
Nueva Zelanda
Año
2001
Género
Drama · Suspense
Formato
Color
Duración
85
Director
Stephen
Guión
Stephen Batt
Fotografía
Alan Locke
Música
BattMichael Lowry, Anthony Nevison
Producción
Trevor Haysom
Distribuidora
Eurocine Films
Reparto
Robert Pollock (Roger), Stephen Ure (Wayne), Bruce Hopkins (Bruce), Robert Horwood (Phil), Ray Storey (Grant), Patrick Wilson (Detective), Ed Newborn (Detective), David Grieson (Policía armado), Ben Drellet (Policía armado), John Pakoti (Policía armado)
Sinopsis
Dark Stories es una colección de historias cortas al estilo de "Creepshow", "Tales from the cript" con un toque del surrealismo de "The Twilight Zone" ("La Dimensión Desconocida"). Se divide en tres películas con siete u ocho cortometrajes. Sus creadores neozelandeses son nuevos talentos que con su innovadora visión han conseguido un resultado fantástico e interesante. 1. L'Eau De Vie: Sara es invitada a un macabro restaurante que presenta un enorme recipiente de cristal que se llena de agua con un hombre desnudo en su interior. Sara se ve enfrentada al dilema de observar como el hombre se ahoga, ante la indiferencia de los demás, o correr en su ayuda. 2. Bitch: Isobel odia a todo el mundo, y sabe que su mejor amigo es su fiel perro. 3. The Imploding Self: Fergus no le presta mayor atención a su pescadito que a las personas que lo rodean. Pero esto lo llevará a un extraño estado de alineación. 4. A Vien En Rose: Un sacerdote narra en forma de monólogo, la historia de una joven llamada Autrey. 5. Headlong: Arthur levanta a Jude, una extraña pasajera que lo convence de explorar su lado rebelde. 6. Sure To Rise: April, rescata a un paracaidista herido y trata de curarlo. 7. Warm Gun: Roger y Brian conversan acerca de un crimen.

Crítica

Puntuación
del crítico: 7

7 Fascinantes y Extrañas Historias Provenientes de Nueva Zelanda, totalmente diferentes y con un estilo único cada una.

L'Eau De Vie (El Agua de la Vida): Los Divertimentos de la alta Sociedad, lo que en un principio parece una velada agradable se convierte en lo contrario. Angustiosa y al final te quedas flipando.
Nota: 8

Bitch (Perra): Interesante y cómica historia amorosa. El guión es bueno y la protagonista esta desternillante cuando habla con el perro.
Nota: 7

The Imploding Self (El Ser Implosivo): Gracias a este corto he conocido los Axolotl, unos extraños peces muy conocidos en México pero que desconocía totalmente. Una historia sobre la fascinación de un hombre con este pez. Hilarante.
Nota:7,5

A Vien En Rose (La Vida Rosa): Un Corto con muchas rosas, visualmente muy atractiva y en general es una poesía en imágenes.
Nota:7

Headlong (De Cabeza): Una chica muy mala y un hombre muy inocente ¿Qué Ocurrirá? Entretenida.
Nota:6

Sure To Rise (Subida Segura): Bonita historia de una mujer que vive pobremente y se encuentra con un paracaidista perdido y herido.
Nota:7

Warm Gun (Un Instante): Bien hecha, parece que el mar te engulle de verdad y la sorpresa final es inesperada aunque no muy novedosa.
Nota:6,5

Chema
Ficha de Película enviada por
Jack Skeleton
el 11 de Junio de 2006

visitantes