Muchos dicen que Tristram Shandy es el libro irreproducible en pantalla. Imposible de adapatar.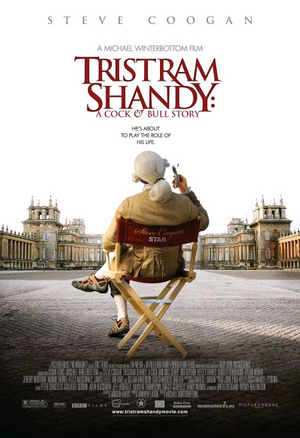 Tristram Shandy: A Cock And Bull Story
Título original
Tristram Shandy: A Cock And Bull Story
Nacionalidad
Reino Unido
Año
2005
Género
Documental · Drama · Historico
Formato
Color
Duración
94
Director
Michael Winterbottom
Guión
Frank Cottrell Boyce
Fotografía
Marcel Zyskind
Música
Edward Nogria, Bach, Nyman, Rota
Reparto
Steve Coogan (Walter Shandy/Tristram Shandy/él mismo), Rob Brydon (tío Toby/él mismo), Dylan Moran (Dr. Slop), Raymond Waring (cabo Trym), Gillian Anderson (viuda Wadman/ella misma), Keeley Hawes (Elizabeth Shandy/ella misma), Naomie Harris (Jennie), Kelly Macdonald (Jenny), Jeremy Northam (Mark), James Fleet (Simon), Ian Hart (Joe), Stephen Fry (padre Yorick)
Sinopsis
La vida y las opiniones de Tristram Shandy, el rompedor libro de Sterne, es un variado catálogo de emociones humans y sátira.

Crítica


Puntuación
del crítico: 8

Muchos dicen que Tristram Shandy es el libro irreproducible en pantalla. Imposible de adapatar.
¿Cómo asume el reto Winterbottom?
Sencillamente no lo adapta. El concepto que maneja Winterbottom no es nuevo. Los actores aparecen charlando mientras se maquillan. Van a filmar una película, Tristram Shandy, basada en la novela de Sterne. Comienza el rodaje narrando la vida de la familia Shandy, presentando al padre y al tío de Tristram, narrando sin orden aparente el nacimiento de Tristram, su concepción, el día en que siendo niño se pilló el miembro con una ventana. La modernidad del texto de Sterne, rompedora en su época, por sus disgresiones continuas, parece casi fuera de lugar en la adaptación.


Hasta que el director grita: -Corten.
Porque es entonces cuando Winterbottom muestra sus cartas y juega al metalenguaje, al cine dentro del cine, a ocho y medio de Fellini. Nos muestra el set de rodaje, las peripecias para financiar la película, la cara escena de la batalla, el fichaje de Gillian Anderson para contentar a los productores...


Pero sobre todo la vida y opiniones de Steve Coogan, el actor principal. Y es que es en él en quien descansa toda la película, como un inmenso monólogo, acompañado de Rob Brydon como fiel escudero, como su Sancho Panza...
Coogan interpreta al padre de Shandy, al propio Tristram, y lo que es más interesante, a Steve Coogan como personaje.
De este modo Winterbottom se aleja a millas de distancia de la letra impresa de la novela de Sterne, en un intento por captar su espíritu. Y a riesgo de querer parecer el más modernillo de la clase(como le pasó en la terrible cosa que no película 9 songs) esta vez juega sobre seguro porque Coogan da un recital.


Coogan aparece como un actor inseguro, que parece querer dar el salto a un público más masivo. Pide un calzado más alto que Brydon continuamente, como un Tom Cruise enfurruñado, esquiva periodistas que le preguntan por prostitutas de lujo, coquetea con la ayudante del director en las narices de su mujer, que ha acudido con su hijo recién nacido. Se muestra reticente a sentar la cabeza...


Alguien comenta la película que hizo con Jackie Chan. Es suficiente para disparar sus neurosis. Coogan se ríe de si mismo, y se convierte en un retrato del Shandy "que no llegó a convertirse en el hombre que su padre esperaba que fuese". Mark (Jeremy Northam) es un impersonator de Winterbottom que solo asiste a la función de observador, que vive más cerca de los productores y su mundo, y que tan solo exige de Coogan que se meta en una reproducción gigante de plástico de una matriz para simular el nacimiento de Shandy de un modo metafórico.


En la película, se habla de la novela, se dan mil rodeos, se pasan previews de la película, se entrevista a Coogan...De Tristram Shandy sabemos más por el retrato que de él hace su familia y el servicio, que de su propia boca, dicen en la película.
De la adaptación sabemos más por lo que la rodea, por los extras, por los celos de Coogan por el aumento del papel de Brydon...
Y lo que queda es una película con pretensiones de ser diferente, pero que sabe, con acierto, no tomarse en serio a sí misma.

Ficha de Película enviada por
Mycroft
el 11 de Septiembre de 2006
video
visitantes