Zombies en el avión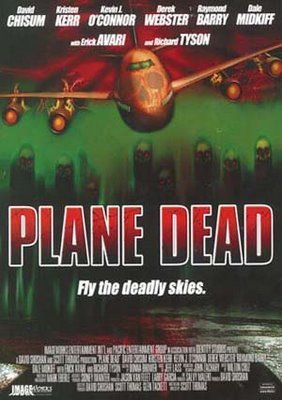 Plane Dead
Título original
Plane Dead
Nacionalidad
Estados Unidos de América
Año
2006
Género
Terror
Formato
Color
Duración
89
Director
Scott Thomas
Guión
Scott Thomas, Mark Onspaugh, Sid Iwanter
Fotografía
Mark Eberle
Música
Nathan Wang
Producción
David Shoshan, Scott Thomas, Glenn Thackett
Reparto
David Chisum, Kristen Kerr, Kevin J. O'Connor, Derek Webster, Dale Midkiff, Erick Avari, Richard Tyson
Sinopsis
Plane Dead narra las 13 horas de vuelo de un boeing 747 que sale de París. Empieza todo muy inocentemente, no es más que otro vuelo transcontinental... pero su desafortunada área de cargamento alberga un secreto; un contenedor de metal con un virus letal que convierte en minutos a un humano en un no-muerto asesino. El virus mortal se extiende accidentalmente, los no-muertos comienzan a infectar a la tripulación y los pasajeros comienzan a morir y volver a la "vida", excepto unos pocos. Este puñado de supervivientes se enfrenta cara a cara con lo inimaginable: muertos viventes. No tienen sitio donde correr, deben luchar para permanecer con vida, intentar hacer aterrizar el 747 antes de que se estrelle o lo derriben los militares...

Crítica

Puntuación
del crítico: 6

También conocida como "Flight of the Living Dead: Outbreak on a Plane" se trata de una oportunista y descarada copia del blockbuster "Serpientes en el avión" en el que los reptiles son sustituidos por muertos vivientes. Queda claro, pues, que no es el colmo de la originalidad.
Y es que a esta película, como a muchas otras, no hay que juzgarla por sus discutibles méritos artísticos (y no quiero con esto decir que esté mal hecha), sino por su nivel de entretenimiento, pues no aspira a nada más. En este aspecto cumple (sobretodo en su segunda mitad) y gustará a los aficionados al subgénero de los muertos vivientes (acostumbrados a ver mucha bazofia con la esperanza de encontrar algo que valga la pena), ya que ofrece unos bien caracterizados zombis, sangre, mal rollito y los acostumbrados toques de humor negro. Ni nada más ni nada menos.


A mi me pareció más divertida que la de las serpientes, otra chorrada pero mucho más cara.

turuletto
Ficha de Película enviada por
turuletto
el 7 de Diciembre de 2007
video

visitantes