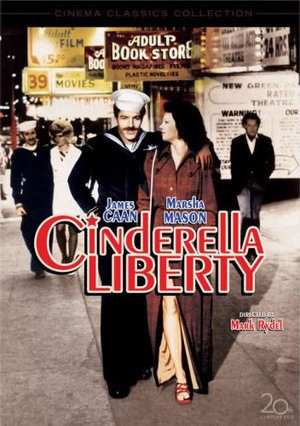 Sinopsis
Johnny (Caan) es un joven marinero de la armada que mientras espera en Nueva York a que le vuelvan a destinar, conoce en un club de alterne a una prostituta, Maggie (Mason) con la que empieza a tener una relación amorosa más profunda a raiz que conoce a su hijo mulato Doug (Calloway) y del cual decide hacerse cargo.

Crítica

Puntuación
del crítico: 6

El principal error de Cinderella liberty, habría que encontrarlo en su guión, que nada entre varias aguas, desde la comedia, pasando por el romanticismo, hasta el drama más amargo, lo cual hace que el cocktail acabe siendo indigesto. En mi opinión creo que se deberían haber centrado más en el espiritu de comedia romántica que se respira durante casi todo su metraje y obviar el dramatismo que acontece en el último tercio y que desvirtua tanto al film como al personaje de Marsha Mason cuya evolución dramática al final del film no es coherente por mucho que su comportamiento de madre a lo largo del film dejase bastante que desear. Es en el reparto donde encontramos al verdadero flotador del film, el que evita que no se hunda, y es que James Caan nunca estuvo mejor que aquí, mientras que la casi debutante Marsha Mason está realmente deslumbrante, algo innegable incluso para sus detractores más acérrimos (y los tiene, y muchos) a los que aún les joroba el que hubiese triunfado en la década de los setenta a pesar de su evidente falta de elegancia y gracia femenina.


La banda sonora de John Williams y las canciones son excelentes, al igual que la dirección de fotografía.

PALMARÉS:

3 Nominaciones OSCAR:
Mejor Actriz (Mason), Banda sonora y Canción (Nice to be around)

1 GLOBO DE ORO:
Mejor Actriz (Mason)
4 Nominaciones:
Mejor Película Drama, Actor Revelación (Calloway), Guión y Banda sonora.

Joan

visitantes