Hasta el ratón más diminuto puede reunir el valor de un caballero de brillante armadura.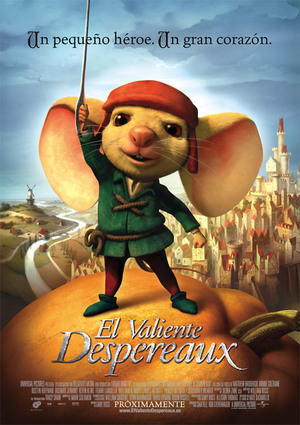 El valiente Despereaux
Título original
The tale of Despereaux
Nacionalidad
Estados Unidos de América · Reino Unido
Año
2008
Género
Animacion
Formato
Color
Duración
93
Director
Sam Fell, Rob Stevenhagen
Guión
Gary Ross
Fotografía
Brad Blackbourn
Música
William Ross
Producción
Universal Pictures
Reparto
Matthew Broderick, Jordi Pons (Despereaux), Emma Watson, Michelle Jenner (princesa Esperanza), Robbie Coltrane (Gregory el carcelero), Dustin Hoffman, Pep Antón Muñoz (Roscuro), Richard Jenkins (director del instituto), Kevin Kline (André el cocinero), Frank Langella (alcalde de Mundo Ratón), William H. Macy (Lester), Tracey Ullman (Mig), Sigourney Weaver, Julia Otero (narradora), Stanley Tucci (Boldo el genio de la sopa), Ciarán Hinds (Botticelli), Christopher Lloyd (Hovis)
Sinopsis
Hace tiempo, en el lejano reino de Dor, flotaba la magia en el aire, todos reían con ganas y había litros y litros de deliciosa sopa. Pero una terrible desgracia destrozó el corazón del rey, llenó a la princesa de añoranza y dejó al pueblo sin sopa. Desapareció el sol. El mundo se tornó gris. No quedaba esperanza hasta que... nació Despereaux Tilling. Despereaux, un diminuto ratón con enormes orejas, es demasiado grande para el pequeño mundo que le rodea. Rehúsa aceptar una vida gobernada por la debilidad y el temor, y se hace amigo de una princesa llamada Esperanza, que le enseña a leer libros (en vez de roerlos) donde se habla de caballeros, dragones y dulces doncellas. Acaban echándole de la sociedad ratonil por querer ser más que un ratón y se hace amigo de otro marginado, la rata Roscuro, que también quiere oír los cuentos de caballería. La princesa rechaza la amistad que le brinda Roscuro, por lo que éste se convierte en una auténtica rata y planea vengarse con la ayuda de Mig, una criada que desea ser princesa. Cuando la princesa Esperanza desaparece, Despereaux descubre que sólo él es capaz de salvarla y que hasta el ratón más diminuto puede reunir el valor de un caballero de brillante armadura.

Crítica


Puntuación
del crítico: 8

Basado en un popular cuento infantil, aunque aqui en España es totalmente desconocido, el valiente Desperaux se ha convertido en una de msi películas favoritas de la última decada, la animacion es absolutamente brillante, las texturas están cuidadas hasta el más minimo detalle y han mezclado la tecnica 3D con la de 2D, le han dado un tipo de animación diferente a las películas de 3D actuales.


También se agradece que han intentado hacer una película duradera, sin el humor tonto o "adulto" que tanto abundan en las producciones de este tipo, para llevarnos a una historia tierna y seria, con un poquito de humor pero la medida perfecta para que la película no pierda esa mágia.El doblaje me ha gustado mucho, la princesa Esperanza esta doblada por Emma Watson en su versión original, y en español Michelle Jenner, la de lo hombres de Paco, que no se si lo habrán hecho a drede pero ue es la dobladora de Emma Watson en las películas de Harry Potter, po lo menos en las primeras, se agradece que hayan utilizado a dobladores profesionales y no a famosos que estropean la película.



Una película de animación diferente, con un sabor a las películas clásicas de animación como la de `Nihm´ que me ha encantado.

Elvira
Ficha de Película enviada por
Chica_Glitter
el 29 de Diciembre de 2008
video
visitantes