VEELMA IS A ROCK `N´ ROLL QUEEN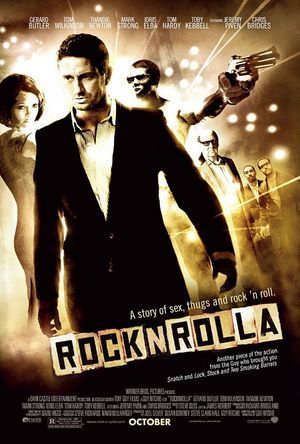 Sinopsis
Un grupo de mafiosos rusos organizan un terreno para construir ilegalmente unas viviendas de lujo, hay millonese euros en medio y toda clase de ladronzuelos quiere participar...

Crítica

Puntuación
del crítico: 7

Lo malo que resulta ser consagrado con la primera película que haces es que luego con una película floja que hagas la crítica y el público lo notara un monton, eso le paso a Orson Welles y ahora a Ritchie (no estoy comparando hay un gran salto entre los dos directores), pero eso pasa por comenzar haciendo un film tan fantástico como lo fue "Lock and Stock", Ritchie se consagro de golpe, siendo alabado y aplaudido, pero esto tambien puede ser un grave error... Vamos a poner ejemplos;


"En la sopa" de 1992, fue una de las peliculas mas aclamadas de los 90, puro cine independiente que recibió críticas estupendas, ganando premios en festivales como Sundance, pero su director ,Rockwell, hizo un capitulo de "Four Rooms" y nada mas se ha sabido de el; a Tarantino , amigo de Rockwell, hizo una controvertida "Reservoir Dogs" y despues la tambien controvertida, pero luego obra maestra, "Pulp Fiction", con la que gano la Palma de Oro en Cannes, despues hizo para muchos un flojísima película, para mi una obra maestra, "Jackie Brown", la crítica aprovecho y Quentin Tarantino no volvio a rodar en seis largos años; podriamos estar hablando de estos casos todo el rato, pero se nos haria inecesario, mejor es rodar antes operas irregulares y luego consagrarte; ahi tenemos a Francis For Coppola, llamado el mayor director de todos los tiempos que empezo en la Serie B con "Dementia 13", un film muy irregular y malillo, pero termino con la saga de "El Padrino" y "Apocalypse Now", ya llamadas obras maestras, y "El Padrino" esta considerada por muchos como la mejor película de todos los tiempos, y habria que mirar como empezo Coppola, asi tambien paso con Steven Spielberg, Martin Scorsese y un centenar mas...


"RocknRolla", podria haber caido totalmente en el olvido y haber sido machacada por la crítica, pero al ver los ultimos trabajos de Ritchie, sobretodo la malsana "Barridos por la marea", comprobamos que "RocknRolla" en realidas es una bendición por una parte y por otra un fracaso. Por una nos econtramos que al final ,Ritchie, hace un film decente despues de casi ocho años, y por otra porque el argumento es tan repetitivo de sus dos anteriores trabajos (Snatch y Lock and Stock), que resulta aburrido por momentos, a ver si con la versión que va a rodar sobre "Serlock Holmes" nos sorprense, cambia de registro y nos impresiona. El film es un entretenimiento y no nos vamos a encontrar con un film sorprendente, es puro entretenimiento.



Lo mejor: El reparto, sobretodo (Gerard Butler, Thandie Newton y Tom Wilkinson), la estupenda BSO y que Ritchie al menos se haya olvidado de patinazos protagonizados por la "actriz" Madonna.
Lo peor: Que es una pelicula bastante floja y solo funciona como entretenimiento.

Sinister urge
Ficha de Película enviada por
Sinister urge
el 6 de Enero de 2009
video

visitantes