Nuevo modelo. Piezas originales.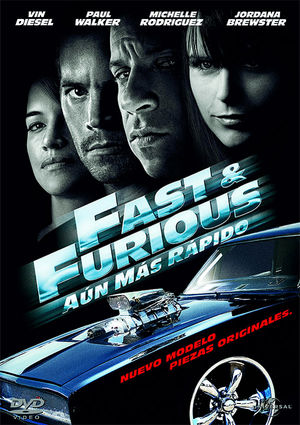 Sinopsis
Despues de escapar de la ley durante varios años Dominic Toretto se encuentra en Centroamerica donde se dedica a realizar operaciones ilegales con su grupo de corredores pero cuando la Interpol le sigue la pista muy de cerca decide desahacer el equipo y le ordena a su novia Letty que regrese a Estados Unidos ,pero un hecho tragico obligara a Dominic a regresar a los Angeles donde se reencontrara con el agente federal Brian O´Conner con quien a pesar de sus diferencias deberan trabajar en equipo para poder infiltrarse en la organización del poderoso Narcotraficante Braga, quien está reclutando conductores para transportar droga a través de la frontera con México.

Crítica


Puntuación
del crítico: 8

Debo decir que he visto toda la saga de 'The Fast and The Furious' pero esta es la primera que la veo en el cine y quizás más que nada debido al hecho de ver nuevamente juntos a sus protagonistas principales de la primera parte. Las secuelas no fueron malas, en especial la tercera, pero hacia falta algo así que en vez de seguir con una nueva historia decidieron regresar a los origenes incluyendo a su protagonista Vin Diesel, quién además de estelarizar el film, ocupa la labor de productor, y es curioso ya que hace algunos años se habia negado rotundamente a participar en cualquier secuela, pero como bien dicen... es de sabios cambiar de opinión.



Ademas de Diesel, también regresa Paul Walker, quién interpreta al agente Brain O´Conner (es curioso, ya que la última vez que lo vimos no parecia tener muchas ganas de regresar al FBI, en fin...) además de las chicas Michelle Rodriguez y Jordana Brester, aunque viendolo bien, sus personajes no aportan gran cosa a la trama, en especial el de Jordana.



Al mando del film se encuentra Justin Lin, quién ya anteriormente habia hecho derrapar a los autos en 'A Todo Gas 3: Tokyo Race', y aquí nuevamente le imprime toda la espectacularidad y dinamismo a las secuencias de acción como en la carrera del desierto y el choque final en el tunel. No he hablado del guión aunque ¿¿¿hace falta hacerlo trantadose un film como Fast y Furious???



Los fans de la saga quedarán encantados, el resto se encontrará con un film muy entretenido y nada más.

CHOOSE YOUR DESTINY
Ficha de Película enviada por
The Espectro
el 1 de Junio de 2009
video

visitantes