Adaptación cinematográfica del musical de Broadway de Alan Jay Lerner y Frederick Loewe "My Fair Lady", a su vez, inspirado en "Pigmalión", de George Bernard Shaw.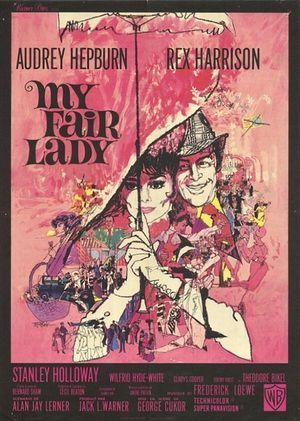 Cartel Original de Bob Peak
My Fair Lady
Título original
My Fair Lady
Nacionalidad
Estados Unidos de América
Año
1964
Género
Musical
Formato
Color
Duración
173´
Director
George Cukor
Guión
Alan Jay Lerner
Fotografía
Harry Stradling Jr en Technicolor, Super Panavisión 70 mm (2.20:1)
Música
Frederick Loewe, Andre Previn
Producción
Warner Bros Pictures. Productor: Jack L. Warner
Distribuidora
DVD, Blu-Ray: Paramount / CBS
Reparto
Audrey Hepburn, Rex Harrison, Stanley Holloway, Wilfrid Hyde-White, Gladys Cooper, Jeremy Brett, Mona Washbourne, Theodore Bikel
Sinopsis
La acción transcurre en Londres. Inglaterra.
En una lluviosa noche de 1912, Eliza Doolittle, una florista callejera y bastante mal hablada, deambula frente al Teatro de la Ópera del Covent Garden, ofreciendo sus violetas a los víandantes sin percatarse de que, oculto tras una columna, un caballero anota en su bloc todo lo que ella dice. Se trata del Profesor Henry Higgins, experto en fonética y prestigioso lingüista, un maduro solterón de carácter irascible, solitario y bastante misógino, quien queda impresionado por el pronunciado acento cockney (inglés vulgar de la calle) de Eliza. En un momento dado, Higgins asegura que tras sólo séis meses de lecciones de pronunciación y buenos modales, sería capaz de hacer pasar a la joven florista por una duquesa en el baile de una Embajada sin que nadie sospeche de dónde procede, pues el profesor cree que la diferencia de clases sociales la marca principalmente la forma de expresarse.


Eliza ve en tal propuesta una oportunidad de convertirse en alguien mejor y poder llegar a ser dependienta en una floristería. Pero Higgins lo toma como un experimento, como un simple juego en el cual hará trabajar muy duramente a su "conejillo de Indias",a todas horas e incluso durante las comidas, olvidando que es un ser humano y que tiene sentimientos. Además su amigo y colega de profesión, el Coronel Pickering, que es un experto en dialectos coloniales y que ha hecho un reciente viaje a la India, le apuesta todos los gastos de las lecciones a que no es capaz de conseguir su propósito...

Crítica

Puntuación
del crítico: 10

Inolvidable clásico de George Cukor que adaptó con su habitual maestría el exitoso musical del mismo título de los escenarios de Broadway (donde Rex Harrison interpretaba a Higgins, Julie Andrews a Eliza y Stanley Holloway a Alfred Doolittle) a la pantalla grande. Alan Jay Lerner y Frederick Loewe convirtieron en un musical la famosa obra de George Bernard Shaw, "Pigmalión", inspirado a su vez en la leyenda mitológica de Pigmalión, rey de Chipre y escultor y Galatea, su obra de una bella mujer de la que se enamora y que cobra vida. La puesta en escena, a cargo de Gene Allen, el diseño de vestuario de Cecil Beaton y la fotografía en technicolor y Super Panavisión 70 mm de Harry Stradling Jr son impecables. Rex Harrison, que ya había interpretado al profesor Higgins en los escenarios de Broadway y Londres resulta deliciosamente cínico y sarcástico. Parece nacido para el papel. Como dato curioso cabe destacar que su amigo y compañero de profesión, Cary Grant, cuando Jack L. Warner le ofreció el papel dijo " No sólo no interpretaré al Profesor Higgins, es que si no lo hace Rex Harrison no volveré a ver una película de tus estudios ni a trabajar en ellos"


Audrey Hepburn, aun doblada por Marni Nixon en las canciones realiza uno de sus mejores trabajos y fue una verdadera injusticia su no nominación a la mejor actriz por parte de la Academia en los Oscars de Hollywood.
Los secundarios también están maravillosos: Stanley Holloway al igual que Rex Harrison ya había interpretado su personaje (el padre de Eliza) en el Teatro y es memorable su actuación siendo uno de los secundarios más recordados por los cinéfilos. Wilfrid Hyde White está magnífico en su rol de impasible señor británico que casi nunca pierde la calma. Jeremy Brett resultó maravilloso como Freddie cantándole a Eliza en la Calle donde ella vive. El resto de secundarios también estuvieron sublimes.


Las canciones y números de Lerner y Loewe con los arreglos de Andre Previn son pegadizos: The Rain in Spain, Get me to the church, On the street where you live, Ascot Gavotte (donde nunca los sombreros han lucido tanto en la gran pantalla y en la maravillosa escena de Audrey con ese mítico vestido y sombrero que lucía en la primera presentación de Eliza en sociedad en las carreras de caballos del famoso hipódromo británico)...


Jack L.Warner, para competir con Walt Disney y su éxito "Mary Poppins", por la cual se le concedió el Oscar a la mejor actriz a Julie andrews, la Eliza teatral (ironías de la vida) decidió que las canciones se doblaran a todos los idiomas, uno de los detalles más criticados por los fans de la película y del musical. La versión española a mí, personalmente, me parece francamente inferior a la original, aún reconociéndole el esfuerzo a Felipe Peña, voz de Rex Harrison y director del doblaje al español de la película.


Para entenderla es imprescindible, a mi juicio, su visionado en Versión Original con subtítulos, pues verla doblada a otro idioma es como ver , por ejemplo, una ópera de Verdi cantada en sueco o una zarzuela del maestro Sorozábal en alemán. Además, la peculiar y chillona forma de hablar de Rex Harrison en la película es todo un espectáculo de la interpretación de un personaje tan singular como es el profesor Higgins, un reflejo autoparódico del propio George Bernard Shaw.


La película obtuvo 12 nominaciones a los Oscars en 1964 de los que ganó nada más y nada menos que 8 estatuillas incluyendo las relativas a la mejor película, mejor director y mejor actor protagonista.
Obra maestra que va ganando encanto con el paso del tiempo. Una Joya del Séptimo Arte.

Correcaminos
Ficha de Película enviada por
Correcaminos
el 10 de Junio de 2010
video
visitantes