La televisión quiere llamarle. La policía quiere encontrarlo. Los cazadores quieren capturarlo. Los Henderson quieren adoptarlo.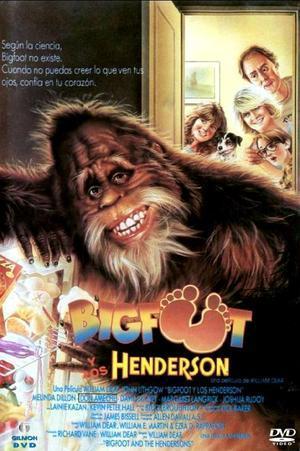 Bigfoot y los Henderson
Título original
Harry and the Hendersons
Nacionalidad
Estados Unidos de América
Año
1987
Género
Comedia
Formato
Color
Duración
110
Director
William Dear
Guión
William Dear, Bill Martin, Ezra D. Rappaport
Fotografía
Allen Daviau, George Koblasa
Música
Bruce Broughton
Producción
Amblin Entertainment
Distribuidora
Universal Pictures
Reparto
John Lithgow, Melinda Dillon, Don Ameche, Margaret Langrick, Joshua Rudoy, Kevin Peter Hall, Lainie Kazan, M. Emmet Walsh, Bill Ontiverous, David Richardt, Jacqueline Moscou, Laura Kenny, Richard Arnold
Sinopsis
La familia Henderson, al volver de una excursión, se encuentra con un extraño y enorme ser. La primera reacción es pedir ayuda a la policía, pero como ésta hace caso omiso, al verle tan desvalido, le adoptan. Pero la armonía de la familia se rompe cuando un fanático cazador va en busca del "pies grandes". Para salvarle, el señor Henbderson intenta trasladarle a las montañas.

Crítica

Puntuación
del crítico: 7

Una entrañable película que triunfo a finales de los ochenta y que de pequeña la veía una y otra vez. Hace poco la volví a visionar y aunque ya no me gusto tanto como de pequeña, pase un gran rato y volví a flipar con el maquillaje del Bigfoot, que no me extraña que ganase el oscar en su. año a mejores efectos especiales, porque hoy en día donde todo esta digitalizado, se agradece la expresividad de la cara de Harry el Bigfoot mecanizada, que esta logradísima y es mucho mas realista y divertida.



La película tiene un mensaje familiar sobre integración a lo desconocido y el racismo, y aunque sobre todo al final resulte algo ñoño, es lo que la hace aun más carismática.
El reparto esta muy bien escogido, empezando por el polifacético John Lithgow, al que últimamente lo hemos visto en la serie del policía psicópata "Dexter", hasta Kevin Peter Hall, el encargado de embutirse en el traje del cariñoso Bigfoot, y que también fue el encargado de dar vida al Predator en las dos primeras entregas de Depredador.


La película dio origen a una serie de televisión, "Harry y los Henderson", con otros acores y que estuvo en antena durante 3 temporadas.

Una divertida comedia familiar, muy currada y entrañable, y que aunque puede que hoy en día este desfasada, no puedo darle menos nota, seguro que no tardaran en hacer una nueva versión viendo la cantidad de series ochentenas que están adaptando nuevamente.

Elvira
Ficha de Película enviada por
Chica_Glitter
el 3 de Agosto de 2010
video
visitantes