Tres Fugitivos. Un Tesoro. Lacarrera ha Empezado.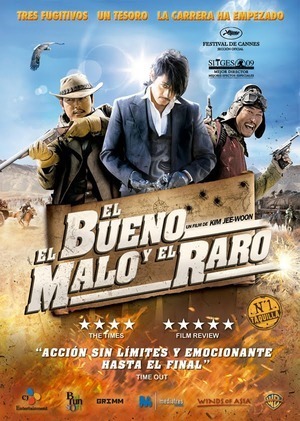 Sinopsis
En la convulsa Manchuria de los años 30, el mapa de un tesoro va a poner tras su pista a chinos, japoneses y coreanos y va a enfrentar en duelo a tres bandas a un cazarecompesas (el bueno), un asesino a sueldo aficionado a cortar dedos (el malo) y un inclasificable bandido (el raro). Homenaje con sabor kimchi a una de las obras capitales de Sergio Leone, The Good, the Bad, the Weird es ante todo una colosal aventura, una fiesta para los ojos que arranca con el espectacular asalto a un tren y alcanza el éxtasis en el desierto de Gobi, entre cañonazos y galope de caballos. La pura esencia del espectáculo y una nueva proeza de Kim Jee-woon. (FILMAFFINITY)

Crítica

Puntuación
del crítico: 7

Cachondo homenaje al western el que se marca Kim Ji-woon. De principio a fin ésta película es un exceso de tiros, sangre y machadas, un espectáculo sin más pretensiones que las de entretener y divertir.

No sólo cumple sobradamente este objetivo, además sorprende con una puesta en escena dinámica y original que te mantiene pegado las dos horas de duración. Se nota la pasta que se han gastado en la peli, destacan los efectos especiales y las escenas de acción son cojonudas (algunas realmente largas).

Divertida y carismática, destaca la interpretación, cómo no, de Song Kang-ho, quien se lleva los momentos más cómicos.

Gozosa.

Davis
video

visitantes