The true story of a legend.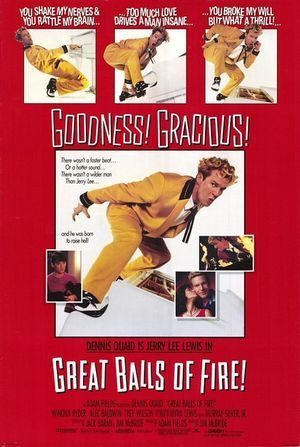 Sinopsis
La vida e historia de Jerry Lee Lewis, uno de los mejores músicos de la década de los cincuenta.

Crítica


Puntuación
del crítico: 8

Una cinta biográfica de lo más entretenida, supieron sacarle jugo al gran músico y personaje que es Jerry Lee Lewis.
Vida y obra de uno de los mejores artistas que ha dado el mundo, miembro del salón de la fama del rock and roll y un señor que provocó escándalos que dieron la vuelta alrededor del mundo, era lógico que su historia fuera llevada al cine y en general es resultona.
La película obviamente no se escapa de los clichés dramáticos y de las posibles exageraciones de situaciones para hacerla más interesante, pero aún así no se ve afectada porque en general el tono de la película se huele a nostalgia telenovelera.
Dennis Quaid se luce como el arrogante y locochón Lewis, acompañado de la siempre confiable y a la altura Winona Ryder, sin dejar de lado a Alec Baldwin.
La puedo recomendar ampliamente, un musical drama-biográfico bien realizado, con sólidas actuaciones que nos invita a conocer la vida de un "genio" musical como es Lewis.

Frog
video

visitantes