Siempre vale la pena luchar por la familia.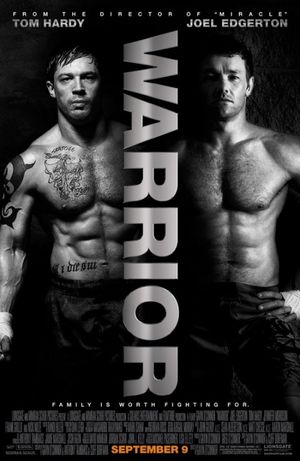 Warrior
Título original
Warrior
Nacionalidad
Estados Unidos de América
Año
2011
Género
Accion · Drama
Formato
Color
Duración
140
Director
Gavin O'Connor
Guión
Gavin O'Connor, Anthony Tambakis, Cliff Dorfman
Fotografía
Masanobu Takayanagi
Música
Mark Isham
Producción
Solaris / Lionsgate
Reparto
Edgerton, Tom Hardy, Nick Nolte, Jennifer Morrison, Kevin Dunn, Bryan Callen, Liam Ferguson, Frank Grillo, Kurt Angle
Sinopsis
Paddy Conlon es un antiguo boxeador cuyos problemas con el alcohol han destruido a toda su familia, sus 2 hijos Brendan y Tommy se alejan de él y toman distintos caminos, Brendan se caso con su novia de juventud y tiene 2 hijas y se dedica a impartir clases de física en una preparatoria mientras que Tommy después del fallecimiento de su Madre se enlisto en el ejercito, mientras que Paddy arrepentido decide regenerarse y dejar el alcohol hasta que años después Tommy regresa y le pide que lo entrene nuevamente para competir en un torneo de artes marciales mixtas para sus motivos personales , mientras al mismo tiempo Brendan tiene serios problemas financieros que puede llevarlo a perder su casa por lo que para ayudar a su familia decide volver a entrenar con su amigo Frank campana para así competir el torneo Sparta donde se encontrara nuevamente con su hermano y cuyos rencores pasados volverán a salir al momento de que se enfrenten en el ring.

Crítica


Puntuación
del crítico: 9

Para mí ha sido una agradable sorpresa esta película que aunque tuvo buena aceptación y cosecho buenas críticas al momento de su estreno ha pasado algo desapercibida y muchos la han tomado como una mezcla de The Westler (2008) y The Figther (2010) pero Warrior sobresale por sus propios medios y nos entrega un entretenido drama familiar ambientado en el mundo de las artes marciales mixtas, donde el peso de la película recae sobre su trió protagonista , para empezar esta el Padre de los hermanos interpretado por un estupendo Nick Nolte , quien sin duda fue una excelente elección para el papel, su actuación es muy buena y realmente te pones en la piel de un hombre con un pasado tormentoso pero que ahora arrepentido y regenerado de su Alcoholismo busca el perdón de sus hijos, por un lado te da lástima su situación pero por el otro no puedes evitar pensar que se lo tiene merecido el desprecio de sus hijos quienes son interpretados por Tom Hardy y Joel Edgerton , en lo que respecta a Hardy después de verlo actuar aquí me queda claro por qué Christopher Nolan lo eligió para interpretar a Bane en The Dark Knight Rise , su actuación y su presencia física dan un personaje atormentado y difícil de descifrar y junto con Nick Nolte dan las mejores escenas de la historia, por el otro lado tenemos a el hermano mayor que interpreta Joel Edgerton a quien vimos en el remake de la Cosa, quizá su personaje sea el mas débil a comparación de Nolte y Hardy pero aun así el actor lo interpreta de forma digna y realmente te interesas por su historia y como de que a pesar de lo que sufrió en su niñez ha sabido superarse y hacer su vida a lado de su esposa interpretada por Jennifer Morrison, pero aun así no perdona a su padre y lo tiene fuera de su vida familiar.



La segunda parte de la película se centra más en el torneo de artes marciales mixtas, los combates están excelentemente coreografiados y filmados donde muestran la dureza de los golpes y las llaves que se aplican en estos combates además de tener alguna que otra escena memorable como el reencuentro de los hermanos y la parte final del torneo.



La historia sin ser innovadora es muy buena y las actuaciones me gustaron mucho, además de los emocionantes combates, sin duda un film muy recomendable.

CHOOSE YOUR DESTINY
Ficha de Película enviada por
The Espectro
el 12 de Julio de 2012
video
visitantes