Todo un Mundo se Esconde Dentro de un Ropero.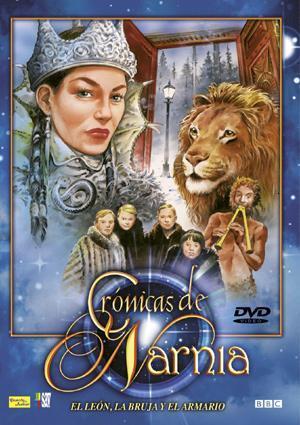 Las Crónicas de Narnia 1: El León, La Bruja y El Armario (T1)
Título original
The Lion, the Witch, & the Wardrobe
Nacionalidad
Reino Unido
Año
1988
Género
Aventuras · Fantastico
Formato
Color
Duración
150
Director
Marilyn Fox
Guión
Alan Seymour
Fotografía
John Mason, Chris Townsend
Música
Geoffrey Burgon
Producción
BBC
Distribuidora
SAV
Reparto
Richard Dempsey, Jonathan R. Scott, Michael Aldridge, Sophie Cook, Sophie Wilcox, Ailsa Berk, William Todd Jones, Barbara Kellerman
Sinopsis
Es un día tranquilo en el corazón de la campiña inglesa cuando Peter, Susan, Edmund y Lucy entran accidentalmente, a través de un viejo armario, en la tierra encantada de Narnia. Se embarcan en una extraordinaria aventura en la que descubren animales parlantes, faunos, simpáticos castores, gigantes y caballos voladores. Cuando la Bruja Blanca se entera de su presencia en Narnia, sus vidas corren peligro, pero se dice que Aslan, el Gran León, acudirá en su ayuda..

Crítica

Puntuación
del crítico: 7

Al igual que la saga que comenzo Disney el año pasado, esta serie del Reino Unido empieza a contarse desde el segundo libro, y bueno, después de ve la espectacular adaptación del 2005 esta de 1988 hecha para la televisión es bastante inferior.
No se le puede pedir mucho en cuanto al apartado tecnico, los castores y los lobos son personas disfrazadas de animalitos sacados de "Barrio Sesamo" y andan a dos patas notandose mucho el disfraz, pero no le voy a negar su encanto de hecho a mano, pero dan más risa que otra cosa.
Las criaturas misticas directamente las han dibujado a mano haciendo que las personas reales luchen contra dibujos animados.
La historia es exactamente la misma solo que tiene mucha menos acción y la batalla final, por llamarla de alguna forma, comparandola da bastante penita.
El personaje de Lucy no la podrian haber escogido peor, una niña regorda con dos palas que le llegan hasta el suelo y un doblaje bastante famoso para esa epoca que no me gusta nada, la Lucy de esta película me ha parecido repelente.
La Bruja Blanca me gusto, tiene un aire diferente al de la nueva adaptación y su mala leche es más sobreactuada, pero esta bruja me gusto.
El león Aslan creo que es lo más logrado de la película, vale que podria pasar por un peluche de leon gigante pero dentro de lo que cabe es lo que mejor hecho esta y más realista queda.
Curiosa y artesanal, aunque creo que hecha en la mano de Jim Henson con sus marionetas habria quedado perfecta.

Elvira
Ficha de Serie de TV enviada por
Chica_Glitter
el 2 de Julio de 2008
video
visitantes