Una de las mejores sagas de los 80!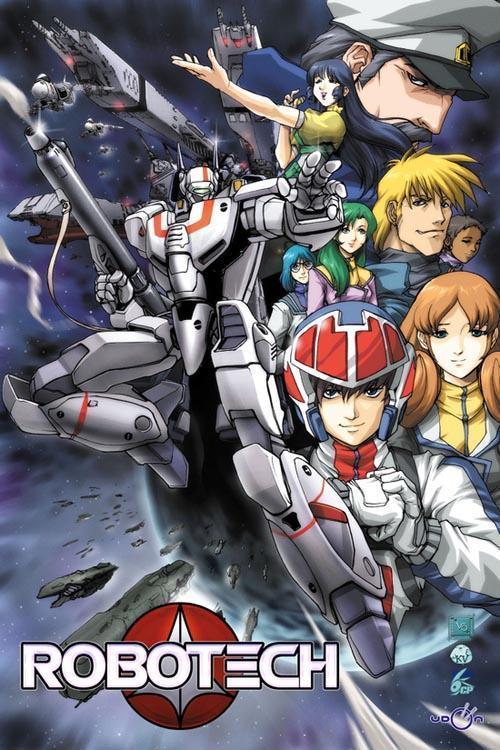 Sinopsis
Historia que narra la lucha de la tierra contra 3 invasiones extraterrestres en diferentes generaciones.

La saga Macross
En el año 1999 Las naciones de la Tierra estan inmersas en una violenta Guerra Civil Global , hasta que un dia una nave de origen extraterrestre se estrella en una isla del Pacífico Sur llamada Macross. Ante este hecho , las naciones acuerdan formar un Gobierno de la Tierra Unida para organizar la defensa mundial frente a un posible ataque extraterrestre. Este gobierno decide restaurar a la nave extraterrestre y pasa a ser conocida como el SDF-1 (Super Dimensional Fortress - 1), y ponerla en servicio como nave insignia de la flota terrestre, Diez años después, la SDF-1 está lista para despegar cuando una flota perteneciente a una raza extraterrestre de gigantes llamada Zentraedi llega a la Tierra para apoderarse de la nave. Como consecuencia Se desata un combate entre las fuerzas de la Tierra y los Zentraedi, que culmina con el despegue del SDF-1 y la transposición (un método de viaje más rápido que la luz) de la nave y la isla Macross con sus 70.000 habitantes más allá de la órbita de Plutón. Durante el desarrollo de esta guerra el joven piloto de combate Rick Hunter se vera envuelto en un triangulo amoroso con Lisa Hayes (Primer Oficial de la nave SDF-1) y Lynn Minmei, una joven que se convertirá en estrella del espectáculo. A su vez que se ven inmerson en una gran guerra que podra en juego el destino de la raza humana.




La saga The Robotech Masters
15 años después del final de la primera guerra Robotech.Los Maestros de la Robotecnia, líderes y creadores de los Zentraedi, llegan a la Tierra para terminar la tarea que sus soldados gigantes no cumplieron: recuperar la Matriz de Protocultura, la fuente de energía que constituye la base de su sociedad. La Matriz se hallaba oculta a bordo del SDF-1 cuando llegó a la Tierra. Sin el menor intento por entrar en contacto con los humanos, comienza la guerra entre los Amos Robotech y el Ejército de la Cruz del Sur, la fuerza militar encargada de la defensa de la Tierra. En especial con el 15º Escuadrón liderados por la teniente Dana Sterling, hija de dos personajes de la generación anterior y que es mitad humana y mitad Zentraedi. Una Guerra sin cuartel se desata entre los Maestros de la Robotecnia y las fuerzas terrestres , quienes al final triunfan pero pagando un precio muy alto , pues los rivales de los Maestros , la raza Invid siente el poder de la Flor de la Vida (elemento vital en la protocultora) y se dirigen a la tierra para apoderarse de ella.




La Saga The New Generation.
Poco tiempo después del final de la segunda guerra Robotech , los Invids, una raza insectoide, lanzan su ataque contra la Tierra. Agotado y sin recursos, el Ejército de la Cruz del Sur es totalmente derrotado y la Tierra es conquistada en cuestión de días. Los Invids establecen sus colmenas y granjas de protocultura por todo el planeta, usando a los humanos como mano de obra esclava. Además de esto la Regis Invid, líder de su raza, comienza una serie de experimentos para determinar la forma final a la que debe evolucionar su raza. Mientras Fuerza Expedicionaria, al mando del almirante Rick Hunter, lanza una serie de ataques para recuperar el control del planeta. Estos ataques fracasan miserablemente, con muy pocos sobrevivientes. Uno de estos sobrevivientes es el teniente comandante Scott Bernard, que se estrella en alguna parte al sur de Sudamérica. Bernard decide continuar con su misión, y forma un grupo de resistencia mientras viaja hacia el Punto Reflex, la base principal Invid en la Tierra, localizada cerca de los Grandes Lagos de América del Sur , en el trayecto se le uniran mas rebeldes que se uniran a la lucha contra los Invid por la libertad del planeta tierra.

Crítica


Puntuación
del crítico: 9

Sin duda una de las mejores series anime y un autentico clasico que marco toda una generacion , y que a opinion de muchos fue de las primeras que popularizo el anime japones en todo el mundo, con una gran historia epica , buenos personajes y mechas ademas de una gran banda sonora ha hecho que hasta la fecha Robotech sea una de las series mas recordadas y admiradas por personas de todo el mundo , todo empezo en 1985, cuando la compañía estadounidense Hormony Gold compro los derechos de una serie anime llamada Super Dimensional Fortress Macross, con el fin de adaptarla y transmitirla al mercado extranjero y como el numero de capitulos no era suficiente para el mercado americano se fusiono con otras 2 series de tematica similar pero que no tenian que ver entre si , estas eran Super Dimensional Cavalry Southern Cross y Genesis Climber Mospeada , cambiando historia ,dialogos ,banda sonora ,etc y el resultado es Robotech: 3 sagas que narran la defensa de la tierra ante invasiones extraterrestres , y sin duda la mejor de todas las sagas es Macross , con grandes personajes entrañables y una gran historia que mantiene a uno en vilo desde el primer episodio , es la parte mas recordada de toda la serie y la que sento las bases de la saga.


La segunda saga narra las luchas de las fuerzas terrestres contra los Maestros de la Robotechnia , esta es sin duda la mas floja de las 3 , ya que los personajes no son tan carismaticos como los anteriores y uno se engancha con la serie hasta ya avanzada la trama , pero aun asi tiene buenas ideas y el final es demoledor y muy pesimista ya que la tierra gana la guerra pero poco podra hacer para detener la invasión que se avecina.


La tercera: La nueva Generacion mejora mucho y logra enganchar al espectador desde el principio ademas de agregar agradables variaciones a la saga que ya se venian agotando desde la anterior parte , como el tema del grupo rebelde tratando de liberar a la tierra de la raz Invid , ademas de hacer mencion de varios acontecimientos de la primera saga , en especial al Almirante Rick Hunter , el protagonista de la primera parte.


Una gran serie que nunca pasara de moda y siempre se podra disfrutar como la primera vez. Yo la disfrute mucho en mi niñez y lo sigo haciendo ahora.

CHOOSE YOUR DESTINY
Ficha de Serie de TV enviada por
The Espectro
el 17 de Noviembre de 2008
video

visitantes