¿Quién dijo que la TV era divertida?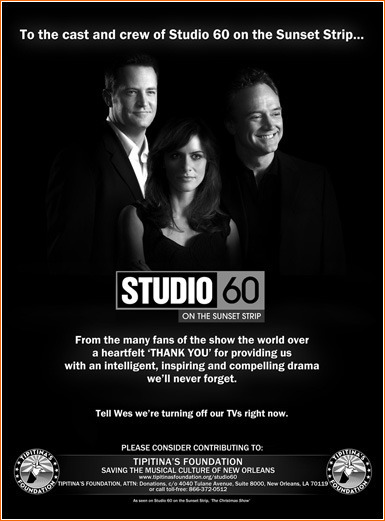 Studio 60 on the Sunset Strip (T1)
Título original
Studio 60 on the Sunset Strip
Nacionalidad
Estados Unidos de América
Año
2006
Género
Drama
Formato
Color
Duración
60
Director
Aaron Sorkin
Guión
Aaron Sorkin
Fotografía
Thomas Del Ruth
Música
W.G. Snuffy Walden
Producción
NBC
Reparto
Matthew Perry, Timothy Busfield, Amanda Peet, Steven Weber, Bradley Whitford, Sarah Paulson, Evan Handler, D.L. Hughley, Nathan Corddry, Edward Asner, Nate Torrence, Ayda Field
Sinopsis
La vida, los deasastres y las alegrias de un grupo de gente que frecuenta un mismo sitio, un estudio de television, en el cual trabajan y ponen en marcha una maquinaria audiovisual...

Crítica


Puntuación
del crítico: 9

Del creador de "Al ala oeste de la Casa Blanca", llego en el 2006 esta estupenda serie, la cual recibio unas inmejorables criticas, pero el publico no la acepto y fue retirada deapues de la primera temporada, beno por lo menos se llego ha hacer que aqui en España solamente ponen basura que averguenza.


La serie es magnifica, se nos presentan a unos "robots" que trabajan en la television y poco a poco se van convirtiendo en mas humano, con sus destellos y sus accidentes del dia a dia, hasta el punto de que podemos ,incluso, llegar a sentirnos identificados. Todos los actores estan fabulosos, incluso Matthew Perry que nunca me llego a agradar, pero aqui tengo que confesar que realiza un muy buen papel; los secundarios de lujo, a pesar de no tener tanto protagonismo tienen tanta fuerza como los demas; el guion es una delicia repleta de talento...


Nunca llegare a comprender como una serie tan buena pudo ser retirada. Serie indispensable.

Sinister urge
Ficha de Serie de TV enviada por
Sinister urge
el 29 de Diciembre de 2008
video
visitantes