Mátalos a todos.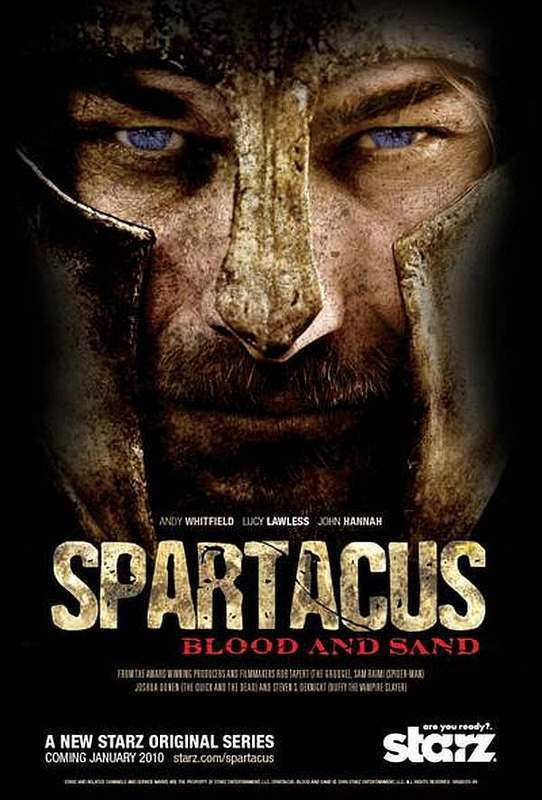 Spartacus: Sangre y arena (T1)
Título original
Spartacus: Blood and Sand
Nacionalidad
Estados Unidos de América
Año
2010
Género
Accion · Drama · Historico
Formato
Color
Duración
60
Director
Rick Jacobson, Michael Hurst
Guión
Steven S. DeKnight, Brent Fletcher, Daniel Knauf
Fotografía
Aaron Morton
Música
Joseph LoDuca
Producción
Starz Media / Starz Productions; Productor: Sam Raimi
Reparto
Andy Whitfield, Lucy Lawless, John Hannah, Manu Bennett, Peter Mensah, Nick Tarabay, Viva Bianca, Lesley-Ann Brandt, Jai Courtney, Erin Cummings, Craig Parker, Eka Darville, Antonio Te Maioho, Ande Cunningham, Daniel Feuerriegel, Katrina Law, Kyle Pryor, Matt Gillanders
Sinopsis
Traicionado por su país. Convertido en esclavo. Renacido como guerrero. Spartacus: Blood and Sand es la historia más gráfica y visceral del gladiador más famoso de Roma. Presentando un reparto estelar, esta serie presenta una mezcla única de acción, efectos gráficos y brutales batallas. Cuando es separado del amor de su vida, Spartacus es forzado a unirse a la arena, donde una dolorosa muerte es el entretenimiento principal. El debe luchar por la supervivencia, acercarse a sus amigos y jugar a la política en este mundo de corrupción, violencia, sexo y fama. Spartacus será seducido por el poder y atormentado por la venganza, pero su pasión le dará la fortaleza para superar cualquier obstáculo, en este cuanto moderno de muerte y honor. (FILMAFFINITY)

Crítica

Puntuación
del crítico: 10

La cadena norteamericana Starz, de la que no había oido hablar hasta ahora, se ha coronado con esta nueva serie a la que ya muchos han definido como una mezcla entre "Roma" y "300".

De la primera coge la época (la ambientación de Capua está realmente conseguida), las conspiraciones, los asesinatos y los tejemanejes para ascender al poder. De "300" utiliza la estética de cómic, la violencia estilizada, escenas de acción a cámara lenta y sangre a borbotones.

Pero a pesar de estas notables influencias, "Spartacus" es una serie tan jodidamente buena que logra alzarse con entidad propia y hacerte olvidar comparaciones. "Spartacus" es una gran montaña rusa de salvajismo y crueldad sin límites. Es un festival de violencia y sexo desmedido que capítulo a capítulo va enganchándote, con una trama que está bien urdida, que avanza y que sorprende de maneras que no ves venir.



La serie no se anda con tonterías, es brutal. La sangre te salpica y corre a mares por la pantalla, cualquier perversión sexual o humillación tiene cabida. Las coreografías son fantásticas, se nota que se lo han currado de verdad. Combates muy bien filmados donde la cámara no te marea y te das cuenta de lo que está pasando.



Los personajes derrochan carisma y cada uno tiene una personalidad bien marcada, los villanos lo son a conciencia aunque a ningún personaje se le puede tildar de santo, cada uno se mueve por sus propios intereses. Pero lo cierto es que entre testosterona, machadas y explosiones de hemoglobina, el sentimiento de honor y hermandad entre gladiadores está siempre presente y es otro de los puntos fuertes de la serie.



Muy adecuado reparto en el que destacan el antihéroe Andy Whitfield, John Hannah componiendo un malo de lo más despreciable y Lucy Lawless desprendiéndose de las ataduras de "Xena", aquella serie que como ésta la produce el amigo Sam Raimi.

Desde el capítulo 6 hasta el último se asiste a un espectáculo in crescendo, glorioso y épico que culmina en un desenlace bestial. Se cierra dejando un nuevo mundo para desarrollar en otras temporadas que le sigan aunque eso de momento es un misterio ya que al actor principal le han detectado un cáncer que puede peligrar la continuidad del show. Ya se verá.

Davis
Ficha de Serie de TV enviada por
DAVIS
el 11 de Mayo de 2010
video

visitantes