"Hi, my name is Hugh Abbot, minister of stuff..."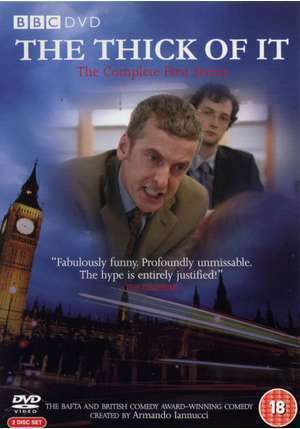 The Thick of It (T1)
Título original
The Thick of It
Nacionalidad
Reino Unido
Año
2005
Género
Comedia
Formato
Color
Duración
30
Director
Armando Iannucci
Guión
Armando Iannucci, Ian Martin, Simon Blackwell
Fotografía
Jamie Cairney
Producción
British Broadcasting Corporation (BBC)
Reparto
Chris Addison, Peter Capaldi, James Smith, Joanna Scanlan, Rebecca Front, Lucinda Raikes, Chris Langham, Will Smith, Polly Kemp, Roger Allam, Vincent Franklin, Olivia Poulet, Alex Macqueen, Justin Edwards, Paul Higgins, Samantha Harrington, Tony Gardner, Zoe Telford
Sinopsis
Sátira sobre los entresijos de la alta política británica. En 2009 se hizo un spin-off en forma de película; "In the Loop". (FILMAFFINITY).

Crítica


Puntuación
del crítico: 9

Sátira brutal sobre el mundillo de la política 'british' que luego dio origen a la genial película "In the loop".

Corrosiva e inteligente, la serie es una verdadera gozada. Se centra en el Ministerio de Asuntos Sociales y en sus incompetentes funcionarios, que capítulo a capítulo tendrán que lidiar con momentos de crisis surgidos la mayoría de las veces de los detalles más tontos.

Destila mala leche a rabiar y está plagada de referencias pop que no hace falta ser inglés para pillarlas.
El personaje de Abbot es buenísimo, Ministro metepatas que se mete en unos fregaos de órdago. Fantástico Chris Langham en este papel.

Pero quien realmente conquista el show, el robaplanos por excelencia y el personaje más genial de la serie es Malcolm Tucker, interpretado por un soberbio Peter Capaldi que cada vez que habla suelta tres o cuatro palabrotas. Un crack.

Divertidísima, cachonda e imprescindible. A ver si algún héroe anónimo se anima a subir los subtítulos de las demás temporadas. Se agradecería.

Davis

visitantes