Haz cosas malas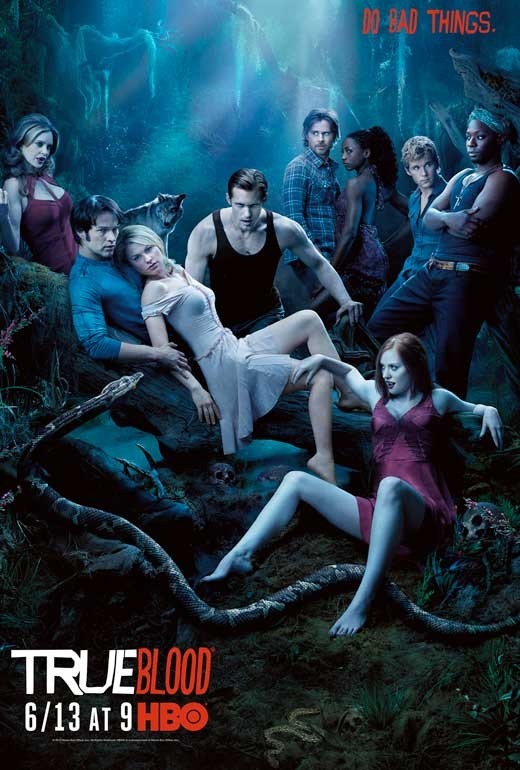 True Blood (Sangre Fresca) (T3)
Título original
True Blood
Nacionalidad
Estados Unidos de América
Año
2010
Género
Comedia · Drama · Erotico · Fantastico · Romantica · Suspense · Terror
Formato
Color
Duración
50
Director
Daniel Minahan, Scott Winant, Michael Lehmann, David Petrarca, Anthony Hemingway
Guión
Brian Buckner, Raelle Tucker, Alexander Woo, Kate Barnow, Elisabeth Finch, Alan Ball
Fotografía
Matthew Jensen, Romeo Tirone, Stephen St. John
Música
Nathan Barr
Producción
HBO
Reparto
Anna Paquin (Sookie Stackhouse), Stephen Moyer (Bill Compton), Sam Trammell (Sam Merlotte), Ryan Kwanten (Jason Stackhouse), Rutina Wesley (Tara Thornton), Marshall Allman (Tommy Mickens), Chris Bauer (Andy Bellefleur), Kristin Bauer (Pam De Beaufort), Nelsan Ellis (Lafayette Reynolds), Todd Lowe (Terry Bellefleur), Jim Parrack (Hoyt Fortenberry), Carrie Preston (Arlene Fowler), William Sanderson (Sheriff Bud Dearborne), Alexander Skarsgård (Eric Northman), Deborah Ann Woll (Jessica Hamby), Kevin Alejandro (Jesus Velasquez), Denis O'Hare (Russell Edgington), Joe Manganiello (Alcide Herveaux)
Sinopsis
La tercera temporada sigue libremente la trama de la tercera novela de The Southern Vampire Mysteries, Club Dead, e introduce a los hombres lobo en la mitología de la serie. También presenta a los personajes de Russell Edgington, el Rey Vampiro de Misisipi, y su investigador privado, Franklin Mott, además de algunos personajes de la cuarta novela, Dead to the World: Crystal Norris, su familia de hombres pantera de la aldea Hot shot, y la hada madrina de Sookie, Claudine. La trama transcurre en torno al secuestro de Bill por parte del rey de Misisipi para lograr la corona de Luisiana mediante matrimonio y el descubrimiento de la verdadera naturaleza de Sookie como una de las últimas supervivientes de la raza de las hadas, siendo este último un elemento de la trama principal de la octava novela, From Dead to Worse.

Crítica

Puntuación
del crítico: 7

Pese a que los primeros episodios son muy aburridos, la trama se vuelve cada vez más interesante. Conocemos a la familia de Sam, que también son "cambiantes", y los personajes evolucionarán, en algunos casos, de una manera sorprendente, como el caso de Tara, que es la que más traumatizada acaba y cuyo personaje tiene más peso dramático. Su primo Lafayette por fin consigue el protagonismo que se merecía, y es que su personaje ha ganado enteros temporada tras temporada.


El trío amoroso entre Sookie, Bill y Eric, ira dando tumbos como siempre, y por fin conocemos la verdadera identidad de Sookie Stackhouse.
En esta tercera temporada se nos meten más seres mitológicos, como los hombres lobos, que toman un papel importante en la trama de esta temporada, y se nos mete aún más identidades, como las hadas y los brujos, que parece que tomarán fuerza en la cuarta temporada ya que aqui aparecen al final y muy poco.


La temporada acaba de forma que te dejan con las ganas de ver más y con muchas tramas abiertas, con lo que habrá que esperar a que salga la cuarta temporada pronto.

Chema
Ficha de Serie de TV enviada por
Jack Skeleton
el 29 de Enero de 2011
video

visitantes