"Pueden pensar eso. Yo me abstengo de hacer comentarios."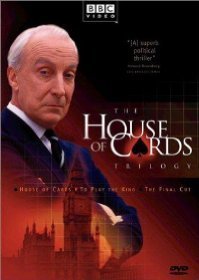 House of Cards (T1)
Título original
House of Cards
Nacionalidad
Reino Unido
Año
1990
Género
Drama
Formato
Color
Duración
60
Director
Paul Seed
Guión
Andrew Davies (Novela: Michael Dobbs)
Fotografía
Jim Fyans, Ian Punter
Música
Jim Parker
Producción
Emitida por la cadena BBC; British Broadcasting Corporation (BBC)
Reparto
Ian Richardson, Diane Fletcher, Susannah Harker, Miles Anderson, Alphonsia Emmanuel, Malcolm Tierney, Colin Jeavons, Damien Thomas, William Chubb, Kenneth Gilbert, Christopher Owen, David Lyon
Sinopsis
Margaret Thatcher acaba de caer y en el partido conservador los diversos candidatos a ocupar su puesto como líder de los Tories se aprestan a dar la batalla como buitres sobre su cuerpo aún caliente (es una metáfora; todo el mundo sabe que la Dama de Hierro era un ser de sangre fría...). Francis Urquarth, es el Chief Whip, el jefe de organización de los Tories, la persona encargada de disciplinar a los parlamentarios para que sigan la línea del partido. Un personaje poderoso que se mueve entre bambalinas y que ejerce su poder desde la sombra... Urquarth es el prototipo del inglés de clase alta: educado, tradicionalista y clasista hasta la médula. Para su desgracia, el candidato elegido es de corte liberal y pone más énfasis del que a él le gustaría en la política social. No sólo eso: es elegido Primer Ministro por una escasa mayoría y pronto resulta evidente que va a ser un líder bienintencionado y popular, pero débil. No sólo eso: a la hora de repartir los ministerios, el Primer Ministro no sólo desoye los consejos de Urquarth, sino que incumple su promesa de otorgarle a él mismo un ministerio. Desde ese mismo momento, Urquarth va al acoso y derribo del Primer Ministro, una tarea para la que parece estar inmejorablemente dotado, desplegando un ingenio absolutamente pasmoso para la intriga y la doblez. (FILMAFFINITY)

Crítica

Puntuación
del crítico: 10

Interesándome por los adaptaciones para televisión del gran guionista Andrew Davies ("Orgullo y prejuicio", "Bleak House", "Little Dorrit") me encuentro con este 'Castillo de Naipes', que resulta ser otra de las obras maestras olvidadas de la BBC.

Miniserie de cuatro capítulos que adapta la novela de Michael Dobbs, narra la historia de un político ambicioso y sin escrúpulos que no duda en utilizar cualquier medio para llegar al poder. Esto incluye de todo: chantajes, extorsiones, asesinato... pura perversidad vamos. El personaje de Francis Urquarth es de los que no se olvidan, un villano que te mira y te habla en primera persona, como quitándole hierro al asunto (según sus palabras, él sólo hace lo mejor para su país). Frío, calculador, inteligente, irónico, brutal. Ian Richardson en este traje está alucinante, una interpretación GRANDE por la que el ya fallecido actor nunca debería ser olvidado.



Es una serie transgresora y atrevida (con el mérito añadido de llevar 20 años desde el estreno), no sólo por mostrar a ministros y gobernantes corruptos, a quienes presentan llenos de demonios y flaquezas, ávidos de poder y ambición. Son constantes las imágenes de ratas callejeras deambulando por el corazón de Londres, en una comparación con dichos políticos, que es de todo menos sutil. Pero lo que más me ha sorprendido es la relación, casi incestuosa, entre la periodista y Francis ("I love you Daddy") así como el 'consentimiento' de las mujeres de los políticos (la mujer de Francis se lleva la palma) demostrando tener tanta ambición y frialdad como ellos.



Un texto apasionante, lúcido y oscuro, de precisión dramática intachable (sólo cuatro episodios que se ven de un tirón) no exento de fino humor inglés, aunque es más bien humor negro que otra cosa. El final de cada episodio, con la frase favorita de Francis es genial, pero para genial el del último episodio. Una maravilla.




La segunda y la tercera parte de la saga, siendo buenas, no están a la altura de "House of cards". En cuanto al remake norteamericano que se prepara, tengo sentimientos encontrados. Por una parte no me interesa que se haga, porque perderá la mayor parte de la crítica y la mala leche que tiene el original. Por otra parte es sabido que Kevin Spacey hará el papel principal, que David Fincher dirigirá el piloto y que Eric Roth se encargará de adaptarla... y de manos de esos tres es difícil que salga algo mal. Dependerá mucho de si lo acaba produciendo una cadena privada o una pública.

Davis
Ficha de Serie de TV enviada por
DAVIS
el 11 de Marzo de 2011
visitantes