You never know what's around the corner.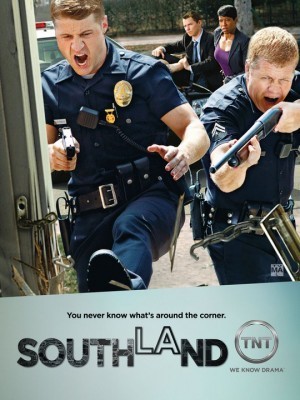 Southland (T3)
Título original
Southland
Nacionalidad
Estados Unidos de América
Año
2011
Género
Accion · Drama · Genero_Negro
Formato
Color
Duración
60
Director
Christopher Chulack, John Wells
Guión
Ann Biderman
Fotografía
J. Michael Muro
Música
Jimmi Muro
Producción
Emitida por la cadena TNT
Reparto
Michael Cudlitz, Ben McKenzie, Regina King, Tom Everett Scott, Michael McGrady, Kevin Alejandro, Shawn Hatosy, Arija Bareikis, C. Thomas Howell, Carla Jeffery, Amaury Nolasco, Laz Alonso, Taylor Handley
Sinopsis
Siguiendo el estilo de ER y Third Watch, esta serie ofrece una mirada autentica al Departamento de Policía de Los Angeles. Desde las playas de Malibu hasta las zonas más peligrosas, Southland es un drama de alta factura que llevará a los espectadores dentro de las vidas de los policías, los criminales y las victimas. En la serie Michael Cudlitz (A River Runs Through It) interpretará a John Cooper, un veterano policía asignado a entrenar al novato Ben Sherman (Benjamin McKenzie, The O.C.). La actitud de Cooper frente al trabajo dejará a Sherman cuestionando si tiene o no lo necesario para convertirse en un agente del DPLA.



Junto a Cudlitz y McKenzie, Southland cuenta con la participación de Regina King (Ray) como la detective Lydia Adams, una mujer que debe cuidar a su madre; y a Tom Everett Scott, (Boiler Room) como el detective Russell Clarke, un hombre en un matrimonio infeliz, que trabaja junto a Adams. Además encontramos a Michael McGrady (The Thin Red Line) como el detective Daniel Salinger, encargado de supervisar a los oficiales, donde también encontramos a Nate Moretta (Kevin Alejandro) y Sammy Bryant (Shawn Hatosy). (Fuente:seriesdetv.com) (FILMAFFINITY)

Crítica


Puntuación
del crítico: 8

Es magnífico ver cómo ha ido evolucionando la serie, volviéndose mejor temporada a temporada. En su tercer año y gracias a la salvación de TNT, "Southland" es el mejor policiaco que hay en la actualidad televisiva.

SPOILERS.

Esta temporada ha tenido momentos brutales como la muerte del detective Moretta (una secuencia impresionante se mire por donde se mire, se palpa el miedo, la tensión y la incertidumbre), dolorosamente real. Ese realismo tan conseguido es la marca de la serie, el trabajo policial de detectives y patrulleros es mostrado en su día a día sin escatimar humor y sangre.




La escena del último episodio en la azotea, cuerpo a cuerpo entre policía y sospechoso es asombrosa, al igual que su resolución.

Tramas interesantes, personajes que maduran (el novato), violencia sin concesiones (ésta temporada la que más) y mucho cachondeo (el personaje del caimán que vuelve de Alcohólicos Anónimos es tronchante). Espléndidas actuaciones de Michael Cudlitz, Regina King y Shawn Hatosy.

No veo procedimentales salvo honrosas excepciones. Hay una profesionalidad y seriedad en "Southland" que hacen que merezca mucho la pena verla.

Davis
Ficha de Serie de TV enviada por
DAVIS
el 28 de Marzo de 2011
visitantes