Beyond the grave.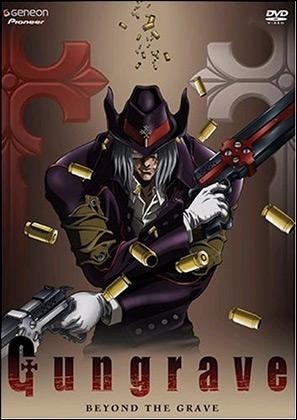 Sinopsis
Gungrave narra la historia de un hombre ahogado en la rabia y el dolor, Brandon Heat, que vuelve a la vida convertido en una máquina de matar: Beyond The Grave. Un ser que vive por y para el dolor, obsesionado con un amor perdido y con la firme intención de cumplir una venganza: acabar con la misteriosa organización Millennion y matar a su líder, antiguo amigo de Brandon. Sin embargo, los planes jamás salen como uno quiere, pues incluso para un muerto es imposible matar los sentimientos... (FILMAFFINITY)

Crítica

Puntuación
del crítico: 7

Magnífico anime de 26 episodios que, al igual que Berserk, comienza en el presente para dar un largo flashback que dura el grueso de la serie y al final vuelve al presente para concluirla.

Sin duda lo mejor de Gungrave es todo el flashback, ojalá hubiera durado más porque todo lo concerniente al ascenso de Brandon y Harry en la cúpula de la mafia es magistral.
Puro cine negro teñido de nostalgia, amistad, ambiciones y traición. Son frecuentes en la serie las puestas de sol, comentarios reflexivos en off y escenas poéticas entre tanta violencia.

La musica es cojonuda, los personajes tienen carisma y te sorprenden con momentos brutales como la muerte de Brandon.
Cuando el flashback termina la serie pierde bastante, con Brandon eliminando a los jefes de Millenion uno por uno, aunque el último episodio es muy bueno.

Sin duda recomendable.

Davis
video

visitantes