His Scandal. Her Story.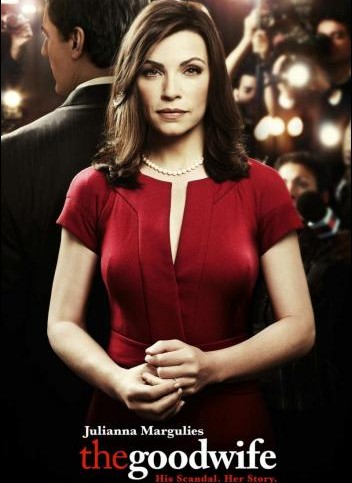 The Good Wife (T1)
Título original
The Good Wife
Nacionalidad
Estados Unidos de América
Año
2009
Género
Drama
Formato
Color
Duración
45
Director
Charles McDougall
Guión
Michelle King, Robert King
Fotografía
Fred Murphy
Música
Danny Lux, David Buckley
Producción
Emitido por la cadena CBS; CBS Television Studios / Scott Free Productions
Reparto
Julianna Margulies, Chris Noth, Christine Baranski, Josh Charles, Matt Czuchry, Archie Panjabi, Alan Cumming, Makenzie Vega, DTeflon, Gillian Jacobs, Dylan Baker, Martha Plimpton, Chris Bauer
Sinopsis
Peter (North) es un popular político que acaba en la cárcel por malversación de fondos y escándalo sexual. A partir de entonces, la vida de Alicia Florrick (Julianna Margulies), su esposa durante 13 años, se desmorona. Deberá rehacer su vida, tras sufrir la humillación de comparecer en público a su lado. Para ello, reanuda su trabajo de abogada en un prestigioso bufete, sin descuidar por ello la vida familiar. De hecho, procurará por todos los medios que sus hijos adolescentes se mantengan al margen del escándalo. La serie se inspira en un caso real: el del Gobernador de Nueva York Eliot Spitzer, que perdió su cargo por un escándalo sexual con una prostituta de lujo. (FILMAFFINITY)

Crítica


Puntuación
del crítico: 8

El piloto no es nada extraordinario y viendo varios episodios la serie se me antojaba otro procedimental de abogados más, sin interés, por lo que decidí abandonarla.
Pero tras los buenos comentarios surgidos acerca de la segunda temporada, me dispuse a darle otra oportunidad. Y gracias a eso ya tengo otra buena serie que seguir.

Porque The good wife es mucho más que una serie de abogados. A medida que avanza se vuelve más interesante, tiene estilo y buenos personajes. Es muy diferente a por ejemplo "Boston legal", el tono es más 'serio' sin renunciar al sentido del humor y los casos son generalmente muy entretenidos.

Pero lo mejor son los personajes. Margulies hace bien el papel de buena esposa, contenida y convincente, pero me gustan más otros como el de Kalinda, una investigadora fría y audaz o la socia altiva del bufete que tan magníficamente interpreta Baranski.

La serie sorprende, siempre se guarda un as bajo la manga y se vuelve mejor, más compacta a cada paso que da. Aborda de forma muy inteligente la fina línea entre lo público y lo privado, se nota que hay un buen guión de por medio, la variedad de casos legales es amplia (homicidios, demandas multimillonarias, divorcios, etc), siendo unos capítulos mejores que otros, y están bien combinadados con la trama principal, el escándalo del político y la lucha de Alicia Florrick por sacar adelante a su familia. Por cierto, los hijos de Alicia son la mosca en la sopa del show, dan ganas de coger unas tijeras y cortar todas sus intervenciones.



Merece la pena la serie, además la segunda temporada ha subido muchísimo la calidad.

Davis
Ficha de Serie de TV enviada por
DAVIS
el 14 de Julio de 2011

visitantes