Wife is complicated.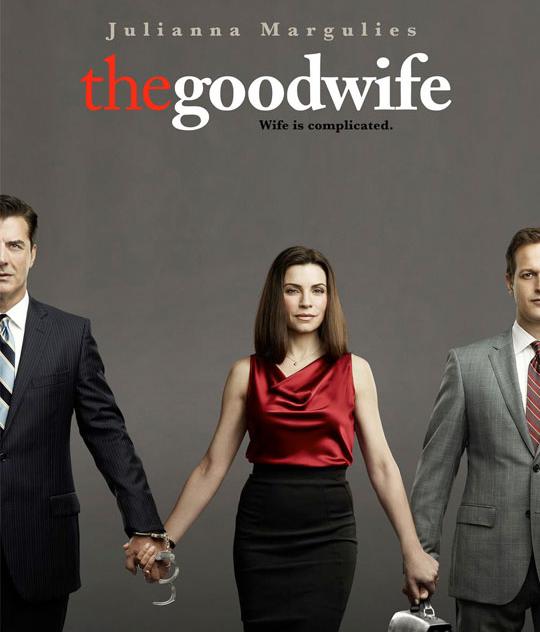 The Good Wife (T2)
Título original
The Good Wife
Nacionalidad
Estados Unidos de América
Año
2010
Género
Drama
Formato
Color
Duración
45
Director
Charles McDougall
Guión
Michelle King, Robert King
Fotografía
Fred Murphy
Música
Danny Lux, David Buckley
Producción
Emitido por la cadena CBS; CBS Television Studios / Scott Free Productions
Reparto
Julianna Margulies, Chris Noth, Christine Baranski, Josh Charles, Matt Czuchry, Archie Panjabi, Alan Cumming, Makenzie Vega, DTeflon, Gillian Jacobs, Martha Plimpton, Michael J. Fox, Scott Porter
Sinopsis
Peter (North) es un popular político que acaba en la cárcel por malversación de fondos y escándalo sexual. A partir de entonces, la vida de Alicia Florrick (Julianna Margulies), su esposa durante 13 años, se desmorona. Deberá rehacer su vida, tras sufrir la humillación de comparecer en público a su lado. Para ello, reanuda su trabajo de abogada en un prestigioso bufete, sin descuidar por ello la vida familiar. De hecho, procurará por todos los medios que sus hijos adolescentes se mantengan al margen del escándalo. La serie se inspira en un caso real: el del Gobernador de Nueva York Eliot Spitzer, que perdió su cargo por un escándalo sexual con una prostituta de lujo. (FILMAFFINITY)

Crítica


Puntuación
del crítico: 9

Se confirma como una gran serie, probablemente el mejor drama que hay en vivo y fuera de la emisión por cable, y si nos ponemos puntillosos es el mejor procedimental de la actualidad (junto a "Justified").

La serie producida por los hermanos Scott y emitida por la CBS se afianza entregando una temporada ENORME, porque consiguen que de 23 episodios no haya ni uno malo, es más podría decirse que a partir del excelente 2x13 y hasta el final son todos geniales.

A los casos auto conclusivos cada vez mejores hay que sumarle varios frentes que hacen de esta temporada una delicia. Por una parte la campaña política de Peter Florrick, maquinada desde las sombras por el gran Eli Gold (soberbia la interpretación de Alan Cumming), por otro lado los movimientos internos de la firma Lockhart/Garner (el capítulo donde se quitan de en medio a Bond es buenísimo) y finalmente la trama paralela de Alicia (la infidelidad de Kalinda con Peter), que alcanza momentos memorables en los últimos episodios donde Julianna Margulies saca por fin sus sentimientos, su dolor y su represión, haciendo lo que tanto tiempo llevaba deseando: liarse con Will.



La interpretación de Margulies esta temporada ha sido impresionante. Escenas como la discusión con Peter, en la que éste trata de equilibrar la culpa de su traición, o la potente escena en la que pone en su sitio a la suegra son de lo mejorcito que veremos esta temporada. Además de la confianza que va ganando en cada caso, las puyas con los abogados contrarios (destacar aquí a Michael J. Fox que ha sido uno de los invitados estrella y lo cierto es que sus capítulos son muy buenos).



Si Archie Panjabi se llevó el Emmy el año pasado, no tengo duda que este año repetirá ya que su interpretación ha sido mucho más jugosa (todo el entramado con el nuevo investigador privado y sobretodo la reacción cuando Alicia le echa en cara su traición), aunque yo se lo daría sin dudarlo a Christine Baranski, esa mujer derrocha clase, elegancia e inteligencia, se come sus escenas a bocados.


No puedo olvidarme de mencionar a Josh Charles, quien también demuestra carisma y seguridad en sí mismo, una fachada que esconde en el fondo a una persona vulnerable. Hace un buen trabajo y me alegro de su nominación al Emmy este año (aunque debería ganarlo Alan Cumming de calle).

En resumen, una temporada sensacional. Allana además el camino para la siguiente, con la expansión del bufete, el acople de Ari Gold, el enfrentamiento entre Peter desde la Fiscalía y Alicia desde la defensa... esto promete vamos.

Davis
Ficha de Serie de TV enviada por
DAVIS
el 14 de Julio de 2011
visitantes