"El fin de la civilización fue sólo el comienzo"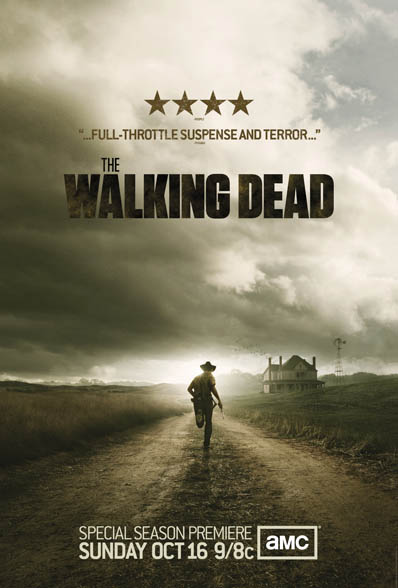 The Walking Dead (T2)
Título original
The Walking Dead
Nacionalidad
Estados Unidos de América
Año
2011
Género
Drama · Terror
Formato
Color
Duración
60
Director
Ernest Dickerson
Guión
Glenn Mazzara, Robert Kirkman (Cómic: Robert Kirkman, Tony Moore)
Fotografía
David Tattersall
Música
Bear McCreary
Producción
AMC
Reparto
Andrew Lincoln, Jon Bernthal, Jeffrey DeMunn, IronE Singleton, Sarah Wayne Callies, Laurie Holden, Chandler Riggs, Steven Yeun, Michael Rooker, Emma Bell, Adrian Kali Turner, Linds Edwards, Keith Allen Hayes, Jim Colemanare, Scott Wilson
Sinopsis
Basada en el cómic homónimo, narra la historia de un grupo de supervivientes durante un apocalipsis zombie. Este grupo gira en torno a Rick Grimes, un policía que estuvo en estado comatoso durante la irrupción de la plaga. Aunque el leit motiv sea este apocalipsis zombie, la serie se centra más en las relaciones entre los personajes, su evolución y comportamiento en las situaciones críticas.

Crítica

Puntuación
del crítico: 6

Soy de los que pone a parir la segunda temporada de esta serie, habiéndome encantado la primera. Para mí no tiene sentido que hagan el doble de episodios si lo que van a hacer es meter paja en la gran mayoría. O si la van a convertir en una telenovela aburrida, o si los actores van a estar horribles. Todo eso pasa en la segunda temporada del apocalipsis zombie.



No entraré en detalles del argumento pero sí que es lamentable que se tiren 7 episodios en los que no pase absolutamente nada para luego en los 5 minutos finales poner algo de carne en el asador. La segunda tanda de capítulos es cierto que ha estado algo mejor pero tampoco ha sido para tirar cohetes.


La evolución de los personajes no ha sido creíble y lo único que ha dado vida a la temporada fue las muertes de gente como Shane o Dale.

Ignoro si la salida de Darabont como showrunner de la serie influyó en el resultado final de la temporada pero lo que está claro es que el nivel bajó muchísimo. No obstante tengo esperanzas en que la tercera temporada sea mejor y me haga recuperar la fé. Los cambios en el reparto y la aparición de sabia nueva, así como el hecho de cambiar de escenario (la granja cargó mucho) son a priori muy positivos.



Me gustó el discurso final de Rick poniendo las cosas en su sitio y dejando claro que para sobrevivir se acabaron las tonterías.

Davis
video
visitantes