¿Prefieres un masaje normal o con final feliz?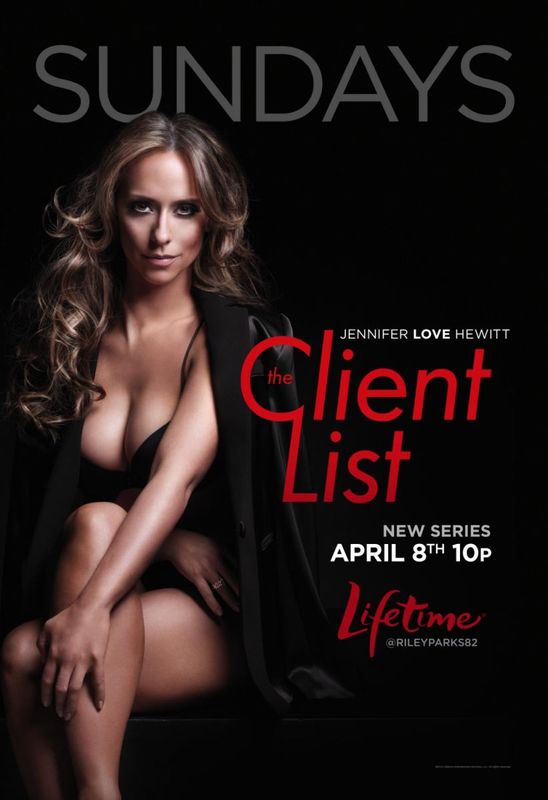 The Client List (T1)
Título original
The Client List
Nacionalidad
Estados Unidos de América
Año
2012
Género
Drama · Erotico
Formato
Color
Duración
40
Director
Suzanne Martin (Creator), Allan Arkush, John Behring, Norman Buckley, Timothy Busfiel
Guión
Marc Halsey, Jordan Budde, Suzanne Martin, Hollie Overton
Fotografía
James Chressanthis
Música
Pieter Schlosser, David Baerwald
Producción
Lifetime: Fedora Films (I)
Reparto
Jennifer Love Hewitt, Tyler Champagne, Marlene Manes, Michael Nardelli, Colin Egglesfield, Rebecca Field, Naturi Naughton, Cybill Shepherd
Sinopsis
La serie sigue la vida de Riley Parks, quien comienza a trabajar en un spa de su ciudad natal después de que su marido la abandona a ella y a sus dos hijos, dejándole una gran deuda financiera. Rápidamente, Riley se da cuenta que el spa ofrece mucho más que masajes, pero decide seguir trabajando allí para continuar llevando comida a la mesa de sus hijos. Además de ayudar a manejar el negocio, ella lucha para equilibrar discretamente sus dos vidas, una madre sola que debe proveer para su familia y una mujer de negocios fuerte que trabaja en un negocio único y mal visto.

Crítica

Puntuación
del crítico: 6

Nueva y polémica serie protagonizada por la dulce Jennifer Love Hewitt. Digamos que es como 'Entre Fantasmas' solo que en vez de que Hewitt ayude a pasar a los espíritus en tránsito al otro lado, ayuda a sus clientes "especiales" a ahogar sus penas con distintas técnicas.

Puedo entender que haya tenido algo de polémica por la temática, y que la asociación de masajistas de no se qué estado haya hecho campaña en contra de la serie porque les da mala imagen a los de la profesión, pero es que la misma serie lo pintan como algo ilegal, es más, la gracia radica en los chanchullos que tiene que hacer la pizpireta dueña del local para evitar que les pille la poli y le cierren el chiringuito. Además la prostitución, como se dice, es la profesión más antigua del mundo (y la más fiel mientras el cuerpo aguante), y en tiempo de crisis es a lo que más rápido y fácil aferrarse, y de lo que siempre va a salir trabajo (desgraciadamente, pero es el barro humano). De todas formas la serie es muy light, toca el tema de manera superficial, nunca sabemos hasta donde llegan los servicios de estas chicas, simplemente es una excusa para poder ver a tíos buenorros y a Jennifer en conjuntos escuetos.



La serie está basada en una película del 2010 del mismo nombre y también protagonizada por Jennifer Love Hewitt y cuyo papel le valió una nominación a los globos de oro, aunque en la serie es la única que repite personaje junto a Cybill Shepherd, solo que con distinto nombre. La trama gira sobre el personaje de Riley Parks, cuyo marido le acaba de abandonar sin razones aparentes y se ve sola al cuidado de dos niños y sin curro, hasta que un buen día, una antigua compañera le comenta que en su actual trabajo como masajista necesitan más trabajadores y que su perfil sería perfecto para ello (más adelante el rifi rafe que tiene la Hewitt con su amiguita es muy bueno). La dulce e inocente Hewitt acepta el trabajo, pero al poco tiempo se da cuenta de que los servicios que dan allí no son simples masajes, y que si quiere ganar un dinerito extra, tendrá que hacer masajes extras. Mientras que la dueña del local, que es la jefa que todo el mundo querría tener; simpática, graciosa y que siempre vela por la seguridad de sus chicas, y si encima te vienen clientes con un cuerpo de escándalo y que más de un@ les daría los masajes sin cobrar, resulta todo de lo más "realista".



Las actuaciones digamos que cumplen con su cometido; Jennifer Love Hewitt en su línea, aunque para servidor siempre es un placer verla, le recomendaría que se podase un poco esas eternas pestañas que me lleva desde que hizo 'Ente Fantasmas' y que aún le duran. Sus compañeras de trabajo son simpáticas, y su mejor amiga es la mejor. Aunque quizás el personaje que más me guste sea el de Loretta Devine, tiene las mejores frases y su ingenio para salvaguardar su local no conoce límites, me troncho con ella. Aunque Loretta tenga a las espaldas películas de la talla de 'Crash', 'Dreamgirls' y 'Yo soy Sam', siempre la recordare por ser la policía en las dos primeras entregas de 'Leyenda Urbana' (además que le pusiesen la misma voz que la que tuvo Steve Urkel en 'Cosas de casa' fue todo un puntazo jaja). Para acabar recalcar a Cybill Shepherd, la actriz más veterana, que aunque no este en un papel tan memorable como el que hizo en la serie de 'Luz de luna', también siempre es un placer verla en acción.



El guión es simple pero efectivo, lo suficiente como para entretener y enganchar lo suficiente en su retorcida trama, la cual no te la puedes tomar demasiado en serio, pero es la mar de entretenida y pasas un buen rato, y el final de la temporada te deja con la intriga de lo que pasara en la siguiente, ya que acaba de lo más interesante.

o.O VoLdEmOrT O.o

Ficha de Serie de TV enviada por
Voldemort
el 26 de Marzo de 2013
video

visitantes