¡Primero lo mataré y después me lo comeré!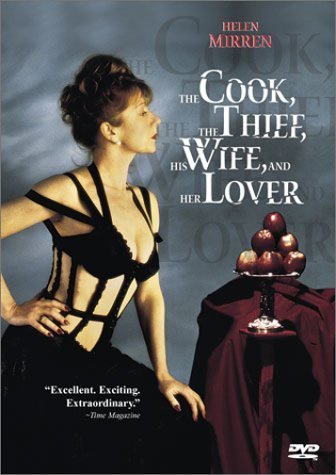 El cocinero, el ladrón, su mujer y su amante
Título original
The cook, the thief, his wife and her lover
Nacionalidad
Reino Unido
Año
1989
Género
Comedia · Drama · Fantastico
Formato
Color
Duración
120
Director
Peter Greenaway
Guión
Peter Greenaway
Fotografía
Sacha Vierny
Música
Michael Nyman
Reparto
Richard Bohringer, Michael Gambon, Helen Mirren, Alan Howard, Tim Roth, Ciaran Hinds, Gary Olsen, Ron Cook, Ian Dury, Ewan Stewart, Diane Langton, Liz Smith.
Sinopsis
Albert Spica (Michael Gambon), el líder de una banda de maleantes, acompañado por su esposa (Helen Mirren) y sus compinches, se entretiene cada noche en el restaurante que acaba de comprar recientemente. Su fuerte carácter y las tiránicas formas que aplica en el trabajo, hacen que todos los empleados estén sometidos a un continuo régimen de esclavitud incluida su esposa, a quien ridiculiza. Cansada de su sádico y rudo esposo, la esposa encuentra un amante (Alan Howard) y le hace el amor en las dependencias de la cocina con el consentimiento del cocinero (Richard Bohringer).

Crítica


Puntuación
del crítico: 9

Excelente obra de Peter Greenaway, una mezcla de comedia negra, drama y horror cargada de simbolismos en un gran restaurante con aspecto teatral, con una historia cruda e impactante. Técnicamente preciosa, rodada toda la película en un gran estudio principalmente con los decorados del exterior, la cocina, el comedor y los lavabos del restaurante, cada espacio con unos tonos y una decoración especial. La fotografía es una delicia, con unos travellings laterales que quedan geniales acompañados de una operística música de Michael Nyman, además del sensacional vestuario 'retro' de Jean-Paul Gaultier que lucen los actores. Una delícia para los ojos.



El reparto es muy bueno, Michael Gambón borda el papel de uno de los personajes más asquerosamente desagradables del cine, un tipo que no me gustaría tener a mí lado mientras cómo, además de una Helen Mirren maravillosa, mostrando todos sus encantos junto con Alan Howard, y unos impasibles Tim Roth como macarrilla descerebrado y el francés Richard Bohringuer.



Hay escenas que parecen recordar a otras películas (posteriores), como el primer encuentro entre la mujer y el amante, muy 'In the mood for love' o una atmósfera cercana a 'Delicatessen'.
El último plato es brutal, no apto para estómagos delicados.

No os la perdais.

nadsat
Ficha de Película enviada por
raccordboy
el 27 de Agosto de 2005

visitantes