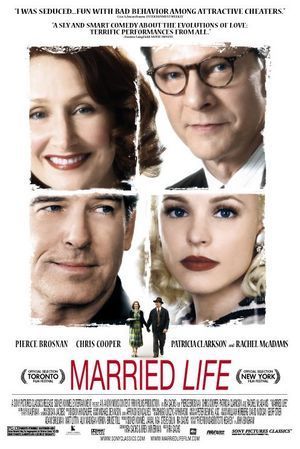 Sinopsis
Harry y Pat Allen (Cooper & Clarkson) son el matrimonio perfecto, aunque sólo de cara a sus amigos y vecinos. En realidad Harry tiene una amante, Kay (McAdams), con la que quiere iniciar una nueva vida, aunque creyendo que Pat no será capaz de superar su ruptura matrimonial, decide urdir un plan para asesinarla y asi evitarle ese "sufrimiento" sin saber que en realidad Pat tambien tiene otro amante y que no le abandona por las mismas razones.

Crítica


Puntuación
del crítico: 5

Flojisimo film independiente, nacido a la estela de otros films de caracteristicas similares como por ejemplo Lejos del cielo, The secret lives of dentists, o We don't live here anymore, donde se ahonda en las mentiras que envuelven a las relaciones de pareja. Lo peor sin dudarlo es el guión, que nada entre demasiadas aguas, ¿es una comedia? ¿es puro drama? ¿es un thriller?, demasiadas preguntas para un argumento nada complejo que es finiquitado de la manera más simple posible, y tampoco ayuda la pobre descripción de personajes de Pierce Brosnan (amigo del protagonista que trata de levantarle a su amante) y Rachel McAdams (que tiene el personaje más interesante del film y está simplemente esbozado). Al final lo más interesante son las interpretaciones de sus actores (exceptuando Pierce Brosnan que está tan mal como siempre) a pesar de que hay momentos en los que Chris Cooper está un poco forzado; por su parte Patricia Clarkson lo borda en un papel que me recordó (a pesar de sus diferencias) al de Elegy, y la bellisima Rachel McAdams está, como suele ser habitual, estupenda, no en vano la única escena realmente reseñable del film le pertenece por completo a ella, que es su primera aparición en la película, en un restaurante buscando con la mirada a Chris Cooper, todo un ejemplo de como dejar una huella indeleble en el espectador en un solo segundo (y por cierto en vez del trailer de youtube voy a poner debajo esa escena).

Joan
Ficha de Película enviada por
Logan D.
el 31 de Octubre de 2008
video

visitantes