La diversión cae del cielo.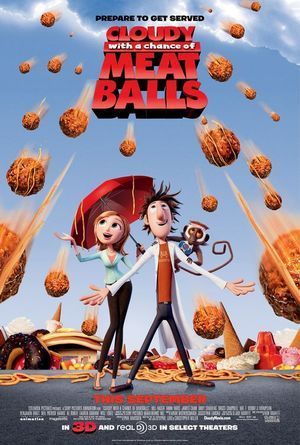 Lluvia de albóndigas
Título original
Cloudy with a Chance of Meatballs
Nacionalidad
Estados Unidos de América
Año
2009
Género
Animacion · Aventuras · Fantastico
Formato
Color
Duración
90
Director
Phil Lord, Chris Miller
Guión
Phil Lord, Chris Miller
Música
Mark Mothersbaugh
Producción
Sony Pictures Animation
Distribuidora
Sony Pictures
Reparto
Anna Faris, Isabel Valls (Sam), Bill Hader, Flipy (Flint), Bruce Campbell (alcalde), Andy Samberg (Brent), James Caan (Tim), Mr. T (Earl Devereaux), Bobb'e J. Thompson (Cal), Benjamin Bratt (Manny), Neil Patrick Harris (Steve)
Sinopsis
Flint es un inventor que durante su niñez creó inventos fallidos para impresionar a la inteligente niña llamada Samantha, aunque nunca lo consiguió. Pasados los años, Flint se encierra cada vez más en sus inventos, mientras que Samantha comienza a trabajar en la cadena local de noticias como chica del tiempo. Flint finalmente inventa algo que funciona: una máquina que hace caer comida del cielo.

Crítica


Puntuación
del crítico: 8

Gran sopresa que me he llevado con esta película de la que no me esperaba gran cosa. La Sony cada vez se esta haciendo más hueco en el cine de anmación después d las joyas
"Colegas en el bosque", "Locos por el surf" y "Monster House".
La película se podria definir como una deliciosa locura, que hinca en los temas de la comida basura y de que cada uno es como es, aunque en ciertos temas podria haber profundizado más o haberse mojado más.
La animación me gusto mucho, muy caricaturesca y expresiva como la de las series de la Cartoon Network solo que en 3D, con un buen ritmo de la narración y mucha originalidad que nunca aburre.
Las escenas en las que cae comida son originalisimas y preciosas, sobre todo la nevada de helado que visualmente es deliciosa, y aprovechando esto hay muchos guiños cinefilos a las películas de catastrofes como "Twister" o "Independence day", entre otras.


Una película muy divertida que si te gusta las alocadas pelis de animación gustará tanto a peques como adultos.

Elvira
video
visitantes