Tiene 72 horas para llevarle de Londres a L.A. Reza por él.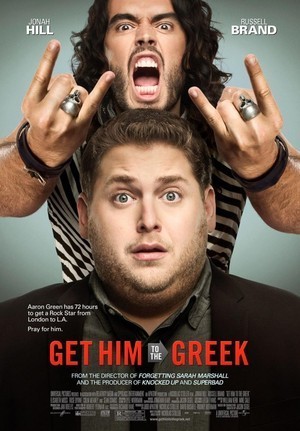 Todo sobre mi desmadre
Título original
Get Him to the Greek
Nacionalidad
Estados Unidos de América
Año
2010
Género
Comedia
Formato
Color
Duración
109
Director
Nicholas Stoller
Guión
Nicholas Stoller (Personajes: Jason Segel)
Fotografía
Robert D. Yeoman
Música
Lyle Workman
Producción
Apatow Productions / Universal Pictures
Reparto
Jonah Hill, Russell Brand, Rose Byrne, Colm Meaney, Katy Perry, Elisabeth Moss, Christina Aguilera, Pink, Sean 'P. Diddy' Combs, Kali Hawk, Kristen Bell, Stephanie Faracy
Sinopsis
Aaron Greenberg es un empleado de una compañía discográfica que dispone de dos días para arrastrar a la estrella del rock Aldous Snow, empeñada en no cooperar, para dar un concierto en Hollywood. Aldous es un músico brillante y un adicto al sexo. Harto del dinero y de que nadie le lleve la contraria, busca el significado de la vida. Cuando se entera de que su gran amor está en California, decide hacerlo todo para recuperarlo. El concierto se acerca y el representante de la discográfica se ve obligado a recorrer un campo de minas, poblado por camellos londinenses, barriobajeros neoyorquinos y bailarinas de Las Vegas, antes de entregar al cantante sano y salvo. Puede que tenga que rogar, convencer, mentir e irse de juerga con Aldous, pero si de Aaron depende, llegará al "Greek Theatre" pase lo que pase. Spin-off de la película "Paso de ti" (Forgetting Sarah Marshall), dirigida por el propio Nicholas Stoller en 2008.

Crítica


Puntuación
del crítico: 5

Esa pareja que tenia tanta gracia en paso de ti, aqui no tiene tanta gracia aunque se deja ver. Quizas la pelicula no esta tan enfocada al humor y a veces parece seria. Los actores estan bastante bien menos el rapero que hace de sergio, que para mi no tiene nada de gracia aunque le eche morro y lo intente.


El protagonista Jonah Hill esta demasiado serio en toda la pelicula y su compi de viaje el rockero esta algo mejor pero no termina de convencerme.
Por lo demas una pelicula que se deja ver, quizas un metraje un poco escesivo para mi gusto.

video
visitantes