8 episodios basados en los relatos de Stephen King.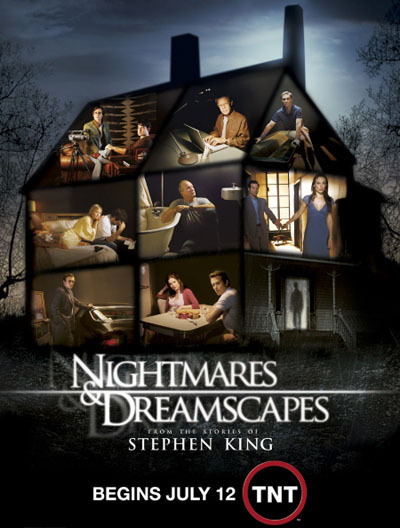 Pesadillas y Alucinaciones (T1)
Título original
Nightmares and Dreamscapes
Nacionalidad
Estados Unidos de América
Año
2006
Género
Ciencia-Ficcion · Drama · Fantastico · Suspense · Terror
Formato
Color
Duración
480
Director
Rob Bowman, Mark Haber, Brian Henson, Sergio Mimica-Gezzan, Mike Robe, Mikael Salomon
Guión
Lawrence D. Cohen, Peter Filardi, Stephen King, Kim LeMasters, Mike Robe, Alan Sharp
Fotografía
Ben Nott, John Stokes
Música
Jeff Beal
Producción
TNT
Reparto
William Hurt, William H. Macy, Eion Bailey, Ron Livingston, Claire Forlani, Jeremy Sisto, Henry Thomas, Kim Delaney, Kim Delaney
Sinopsis
. "El virus de la carretera viaja hacia el norte". Richard Kinnell (Tom Berenger, El sustituto) es un famoso escritor que, de vuelta a casa tras acudir a la consulta del médico, decide comprar un misterioso cuadro. Cada vez que lo mira, parece cambiar y convertirse en una imagen más amenazante y siniestro. Al final, termina dándose cuenta de que el cuadro está tratando de matarlo... algo que no conseguirá si él puede destruirla primero.



. "Sala de autopsias número 4". Howard Cottrell (Richard Thomas, Jóvenes prodigiosos) es un hombre de negocios que se encuentra de vacaciones en uno de sus muchas partidas de golf. Persiguiendo la pelota por la maleza, es mordido por una serpiente y se queda completamente paralizado, sin signos aparentes de vida. En el hospital, incapaz de comunicarse, está a punto de ser el testigo de excepción de su propia autopsia.



. "Campo de batalla (Battleground)". Jason Renshaw (William Hurt, Syriana), un asesino a sueldo profesional, logra cumplir el encargo de matar al exitoso directivo de una prestigiosa compañía de juguetesa, aunque deberá afrontar la mayor pelea de su vida cuando un paquete procedente de esa empresa llega a su casa, con un contenido sorprendente y complemetamente mortal.




. "El último caso de Umney".Después de la muerte de su hijo, el escritor Sam Landry (William H. Macy, Sahara) está tan desesperado por cambiar de vida, que se incluye a sí mismo en la trama de su nuevo libro, haciendo que el personaje protagonista del libro, Umney (también interpretado por el actor) intercambie su lugar con él, y se vuelva realidad. Pero las cosas se ponen feas cuando Landry se da cuenta que Umney está atrapado y no puede salir de su nueva realidad.



. "El Quinto Fragmento". Willie (Jeremy Sisto, A dos metros bajo tierra), un convicto recién liberado, averigua de su amigo moribundo de la existencia de un mapa en cuatro partes que revela la localización de varios millones de dólares procedentes de un robo. Buscando venganza por la muerte de su amigo, y por el dinero también, Willie decide dar caza a los que tienen las otras tres partes del mapa, poniendo en riesgo a su familia y a su libertad.



."Crouch End". Lonnie (Eion Bailey, Urgencias) y Doris (Claire Forlani, ¿Conoces a Joe Black?) son una pareja de recién casados de luna de miel en Londres, que acuden al pueblo de Crouch End para cenar con un amigo. Pronto descubrirán que el pueblo no es lo que parece, y cuanto más se pierden, más quedan atrapados en otra dimensión.



."El final del desastre". El mundo ha cambiado. Violencia, guerra y odio han sido sustituidos por amabilidad, paz y amor. Pero, ¿a qué precio? El renombrado director de cine Howie Fornoy (Ron Livingston, Standoff), al que le queda tan sólo una hora de vida, recuerda los detalles del experimento global de su hermano Robert (Henry Thomas, E.T.) que salió terriblemente mal.



."¿Sabe? Tienen un grupo de la leche". Un cruce equivocado en una carretera equivocada se vuelve aterrador para Clark (Steven Weber, Studio 60 on the Sunset Strip) y Mary Willingham (Kim Delaney, C.S.I. Miami) cuando terminan en un pueblo llamado Rock and Roll Heaven. En él hay un concierto gratis todas las noches, pero el precio por asistir es alto... una vez la audiencia entra, ya nunca puede salir.

Crítica

Puntuación
del crítico: 7

Buena miniserie basado en los relatos de Stephen King, como son 8 episodios los ire analizando por separado.

. "El virus de la carretera viaja hacia el norte": Episodio pesadillesco pero que no me dejo del todo buen sabor de boca, en el aire se puede respirar Stephen King pero la historia se entreversa y se pierde ella sola.
Nota:6

. "Sala de autopsias número 4": Intrigante episodio aunque mientras lo veia me decia, esto me suena, y es que gente que se despierta y no se puede mover y hablar mientras le van a hacer un aautopsia o ser enterrados ya lo hemos visto en muchas ocasiones, pero no de la mano de Stephen King que tiene su miga jeje.


Nota:6,5

. "Campo de batalla (Battleground)": Sin duda el mejor episodio de todos, una especie de "Pequeños Guerreros" de Joe Dante pero mucho mejor, es super divertido, que cabrones son los soldados jeje y esta muy bien hecho, me encanto, al que no veo muy convincente es a William Hurt que parece medio tonto y no dice nunca ni una palabra y solo hace gruñidos raros, a lo mejor es que su personaje es mudo y no me entere, pero esta guay.


Esta dirigido por Brian Henson, el hijo del gran Jim Henson (Cristal Oscuro, Dentro del Laberinto, Fraggle Rock, Los Teleñecos, Dinosaurios...) y es lo mejor que ha dirigido hasta la fecha retomando el tema de los muñequitos, esta vez hechos por ordenador y están cojonudamente hechos, esperemos que siga por este buen camino y nos deslumbre con una joya de largometraje.


Nota:9

. "El último caso de Umney": Por ahora el que menos me ha gustado, es aburrido y casi sin chispa, es una pena ya que William H. Macy se sale en sus dos personajes, eso si, unos decorados excelentes.
Nota:5

. "El quinto fragmento": Mala y aburrida, me ha gustado menos que el anterior y era de esperar ya que el director es el mismo, Rob Bowman, una decepción ya que dirigio varios episodios de Expediente-x y películas entretenidas como "El Imperio del uego" y "Elektra" y ahora nos ofrece estos dos coñazos, esto si que no parece de Stephen King, una historia de famosos con historia coherente, eso no es propio del maestro del terror, más bien parece un melodrama de la sobremesa de antena 3, no hay terror por ninguna parte y no emociona en ningún momento.


Espero que lo sultimos 3 episodios mejoren.
Nota:4

."Crouch End": Me esperaba más de este episodio, al leer la sipnosis me parecio interesante pero ha resultado ser otro episodio mediocre dond elo único que destaca es Claire Forlani y el maquillaje de los hombres-mono porque el resto vale muy poco, la historia es rara de narices y no explican nada, al final te enteras a quién pertenece el nombre, te quedás diciendo, que me quieres decir con esto, estos finales tán irracionales no m egustán mucho, además los fx cantan demasiado, ese ojo del gato no inquieta nada.


Nota:5

."El final del desastre": Buenisimo, el mejor después de "Campo de Batalla", la historia engancha desde el principio, el narrador cuenta los hechos que hacen que el espectador no pierda interes, la historia es muy actual y muy buena, es de esos episodios que te hacen pensar aunque el final me dejo un poco depre XD, además los actores lo hacen estupendamente, sobre todo Ron Livingston y su hermano Henry Thomas, que vaya como ha crecido el niño de E.T. jeje.


Mikael Salomon ya dirigio el episodio claustrofobico "Sala de autopsias número 4" pero con este se supera ampliamente.
Nota:8

."¿Sabe? Tienen un grupo de la leche": Último episodio que han emitido en cuatro, la verdad que esta bien, es original y tiene su gracia, eso de ver a viejas leyendas del rock vivas o "Zombicicadas" tiene su gracia, mola la escena en la que están en la cafeteria y a uno le sangra un ojo y la otra empieza a potar gusanillos blancos, aunque como siempre el final me dejo un poco mal sabor de boca por terminar siempre no demasiad bien o retorcidamente, pero asi es King.


Kim Delaney y Steven Weber están excelentes.
Nota:6

En conclusión "Campo de Batalla" y "El final del desastre" son las que realmente merecen la pena, el resto son simplemente entretenidas y algunas malas como ya he señalado antes.

Chema
Ficha de Serie de TV enviada por
Jack Skeleton
el 3 de Mayo de 2007
video

visitantes