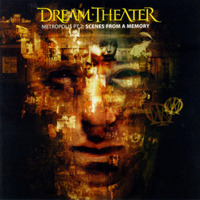 Sinopsis
1. Regression - (scene one)
2. Overture 1928 - (scene two)
3. Strange Deja Vu - (scene two)
4. Through My Words - (scene three)
5. Fatal Tragedy - (scene three)
6. Beyond This Life - (scene four)
7. Through Her Eyes - (scene five)
8. Home - (scene six)
9. Dance Of Eternity, The - (scene seven)
10. One Last Time - (scene seven)
11. Spirit Carries On, The - (scene eight)
12. Finally Free - (scene nine)

Dream Theater: James LaBrie (voz); John Petrucci (guitarras, coros); Jordan Rudess (teclados); John Myung (bajo); Mike Portnoy (bateria, percusion, coros).

Crítica

Puntuación
del crítico: 10

O los amas o los odias, no hay termino medio. Para muchos, la mejor banda de rock (al menos tecnicamente) del momento. Para muchos otros, una autentica empananada mental en clave de rock, o tostón de dimensiones epicas. La verdad, si no estas familiarizado con su musica, se te pueden hacer insoportables, pero si te cuativan , es para siempre.


El disco que nos ocupa, Metropolis, Pt. 2: Scenes From A Memory, del año 1999, es mi favorito de ellos.
Obra conceptual, narra la historia de Nicholas, quien tiene siempre sueños acerca de una vida pasada. Por medio de un psicoterapeuta, descubre que Victoria, una mujer asesinada hace muchos años envuelta en historias de amores, por ser la disputa entre dos hermanos, se ha reencarnado en él. Intrigas, engaños, final abierto, son los ingredientes del disco.


Supone el debut en la banda del teclista Jordan Rudess, que anteriormente habia colaborado con el bateria Mike Portnoy y el guitarra John Petrucci en su proyecto paralelo Liquid Tension. Y supone, segun el mismo Portnoy, un avance ilimitado en la musica del grupo, así como su disco más progresivo.

Y eso que el disco tiene de todo, desde partes autenticamente thrash metal (Beyond this life), como desarrollos progesivos (Home), baladas con la marca del grupo (Through her eyes,) , elementos gospel (The spirit carries on), pasajes de autentico serial de intriga (Fatal Tragedy); de todo puedes encontrar en el album. Y desde luego esas partes de autentica disputa musical entre los musicos, que creo que son el sello de Dream Theater; esos temas, o partes de ellos, que son un pulso entre los miembros de la banda para llevar hasta el más alla las posibilidades técnicas y compositivas de cada uno. No se, siempre pienso en problemas matemáticos cuando intento analizar determinadas piezas de su musica. Lo gracioso es que nunca me han gustado las matemáticas. Al que los acuse de frío virtuosismo, que escuche "Scene seven: the dance of eternity" y acto seguido "One last time", el siguiente tema, para ver como se combina el progresivo con el rock melódico sin el menor problema.


Nada más ese "gran finale", con esa maravilla que es " The Spirit Carries On", con coros Gospel, y "Finally Free", el cierre del album, hacen que merezca la pena el disco entero.

Posteriormente, han sacado 3 discos mas en estudio. Todos me encantan, pero este es el que mejor valoro en su totalidad, globalmente como album. No se si ellos lo considerarán su cima compositiva, seguramente no, pero desde luego se pusieron el listón muy alto.
Ah, por cierto, posteriormente sacaron un dvd en el que interpretan el disco entero, que es una autentica gozada. Resulta increíble ver como plasman en una actuacíon cada momento, cada nota del disco, dotándole en momentos determinados , de mayor profundidad y complejidad.

Pitopocho
Ficha de Disco enviada por
pitopocho
el 16 de Junio de 2006

visitantes