He tenido el privilegio de participar en la Beta de DC UNIVERSE ONLINE, el nuevo juego de rol multijugador online basado en el Universo DC y sus personajes. Ésto va a ser todo un hito en los "MMORPG" como no se producia desde el lanzamiento de World of Warcraft.
El juego se lanza no solo para PC como otros MMORPG, sino que es el primero juego de este estilo en salir para PS3, lo cual es un hito de por sí. Si a ésto le unimos que es el primer juego multijugador de personajes del Universo DC, las espectativas eran altísimas desde hace meses. Y el juego las cumple con creces.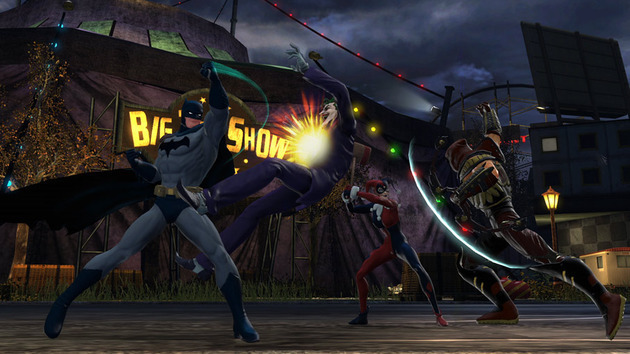 Aparte de algunos fallos técnicos derivados de ser una Beta (el lanzamiento definitivo es en breve), DC UNIVERSE ONLINE proporciona toda una esperiencia de juego fantástica, insertándote en el mundo de los personajes DC podrás recorrer Metropolis o Gotham, ciudades creadas realmente gigantescas donde ir cubriendo las misiones que al igual que en el WOW se van presentando.


El argumento es típico de los comics, una amenaza futura se va a presentar en el Universo DC, un Lex Luthor de un universo alternativo ha venido a avisarnos de que Brainiac destruirá a todos los héroes de la Tierra en un ataque próximo. Para ayudarnos, éste Luthor ha traido unos dispositivos del universo alternativo que proporcionan poderes a humanos normales, para ayudar a la próxima invasión de Brainiac.


Aquí es donde creas tu personaje, dandole poderes de alguna de las familias disponibles y seleccionando vestuario y presentación. El menu de vestuario, capas, traje, etc, es muy extenso y completo, aunque las especificaciones mismas del cuerpo del personaje son pocas, algunas opciones como tipos de piel lo suplen con creces. Las posteriores misiones vendrán determinadas principalmente por el "mentor" que elijas para tu personaje, basados en la famosa "Trinidad" de DC: Superman, Batman y Wonder Woman, y sus archienemigos, Luthor, Joker y Circe si eliges estar del lado de los "villanos", siendo en general misiones en Metropolis para Superman y Wonder Woman y en Gotham para Batman, aunque posteriormente se mezcla todo, ya sabeis como van estos juegos. Siguiendo a Superman te enfrentarás al tipo de enemigos esperados... Gorilla Grodd, la Reina Abeja... bueno Gorilla Grodd es de Flash, que también sale, la Reina Abeja si que es más de Superman (aunque solía ser de Supergirl), en general un tipo de amenaza más tecnologica y tal, y con Batman te enfretarás a desquiciados psicópatas como El Espantapajaros y enemigos similares, en una Gotham bastante siniestra muy bien conseguida, con enemigos con menos poderes y más cosas raras, como en Batman. Si eliges como mentor a Wonder Woman tendrás problemas mágicos, Zatanna te ayudará, lucharás contra el Dr Faustus, contra Trigon, ...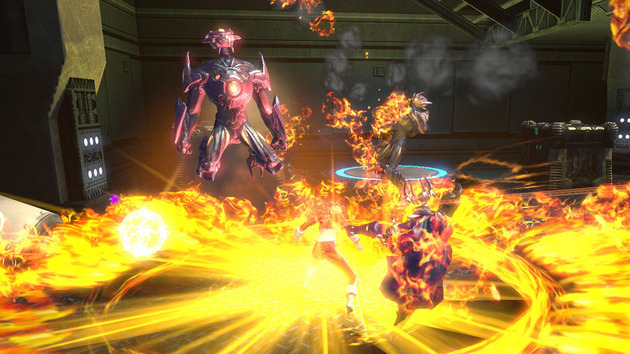 La verdad es que se lo han currado de miedo, los personajes que participan en el juego como podeis ver no son los más conocidos por el gran publico, sino los más interesantes para los comics, parece un juego hecho totalmente por comiqueros y para el disfrute de los más comiqueros, con unos escenarios espectaculares recreando lo mejor del universo DC. Todo el mundo está ahí: el Detective Marciano, Hawkman... ¡incluso Ambush Bug!


El público general le va a encantar el juego por lo bien hecho que está y lo chulo de las misiones, pero los comiqueros además lo vamos a disfrutar por lo profundo que se han metido en el Universo Dc al completo.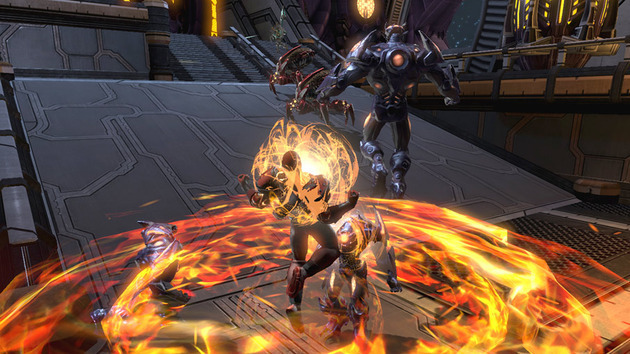 Como en el WOW, lo mejor son las mazmorras, las primeras las puedes pasar sólo pero facilmente necesitarás ayuda, y siempre en estos tipos de juego lo más entretenido empieza cuando formas parte de un grupo. Al jugar en PS3 mi mayor temor era ue la comunicación entre los miembros de los grupos pudiera ser complicada, pero se suple rapidamente en cuanto le coges el truquillo, dando lugar a una esperiencia de juego de lo mejor, aunque eso si los veteranos de WOW podrán echar en falta el teclado (yo tengo un miniteclado para la PS3, pero realmente no es lo mismo).


La interfaz de juego en PS3 no deja nada que desear de los juegos MMORPG de PC, y probablemente marque la tendencia a seguir en el futuro, el juego en las fases de lucha la verdad es que se hace mucho más interesante que los juegos MMORPG de PC al ser lucha típica de PS3, con los poderes escalando a medida que el personaje va cogiendo experiencia (casi como en God of War), aunque concretamente tiene algún fallo en la selección de enemigos que espero arreglen en la versión difinitiva o con alguna actualización (te puedes encontrar pateando cajas sin manera de cambiar al tio que te está zurrando).


Los gráficos están basados en el motor del UnReal, dando una calidad sobresaliente, los personajes con una calidad extrema en alta definicición y los escenarios... ¡wow!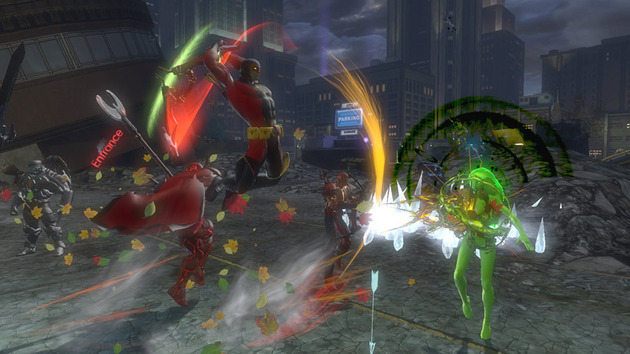 Lo dicho: se lo han currado pero bien. Lo mejor va a ser ver cómo evoluciona el juego con el tiempo, recorrerse todo el Universo DC interactuando con la peña y con tus héroes favoritos... jo, ¡es como el sueño de mi infancia hecho realidad! =)
Esperemos que MARVEL reaccione rápido y monte algo parecido (es raro que no lo hayan hecho ya, teniendo juegos basados en personajes Marvel tan potentes en el mercado), porque como no se den prisa no va a haber quien pare al DC UNIVERSE ONLINE.