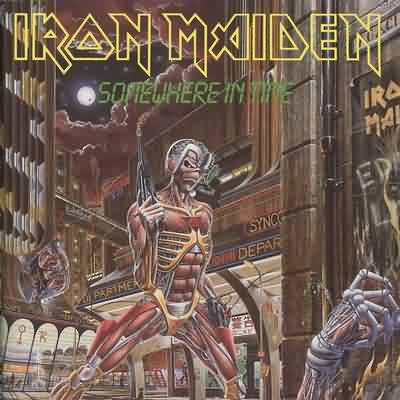 Sinopsis
"Caught Somewhere In Time" (Harris) - 7:22
"Wasted Years" (Smith) - 5:08
"Sea Of Madness" (Smith) - 5:41
"Heaven Can Wait" (Harris) - 7:23
"The Loneliness Of The Long Distance Runner" (Harris) - 6:31
"Stranger In A Strange Land" (Smith) - 5:42
"De Ja Vu" (Murray/Harris) - 4:56
"Alexander The Great" (Harris) - 8:35

Bruce Dickinson - voz
Dave Murray - guitarras
Adrian Smith - guitarras, coros
Steve Harris - bajo, coros
Nicko McBrain - bateria

Crítica


Puntuación
del crítico: 9

Lo que son las cosas, el disco al que posiblemente mas aprecio le tengo de Iron Maiden es uno de los que más polémica ha generado siempre en torno a la doncella. Y el aprecio se lo tengo, además de por su soberbio contenido, sobre todo por la época en la que salió.
Fué la primera vez que me planteé seriamente ir a Madrid a un macroconcierto, pero lamentablemente no pudo ser.
Mi tierna edad y la fama de broncas de los heavies de la época lo impidieron.
Otro aspecto para mi favoritismo lo tiene tambien el artwork del disco. Sobre todo porque lo pillé en vinilo, cuando te podias detener un buen rato a analizar una portada, y no te la bajabas en jpg; automaticamente se convirtió en mi portada favorita de la banda de Harris.
Y respecto a la música, bueno, me encanta este disco. Hay opiniones enfrentadas sobre la introducción de guitarras sintetizadas en diversas canciones. No las veo algo tan evidente o estridente como ya por ello vilipendiarlo, sino que resultan un elemento modernista que entronca directamente con el espiritu futurista que empapa al album. "Caught Somewhere in time" es un clasico trallazo "made in Harris", con un ritmo trepidante dirigido por el tipico ritmo trotante del bajo, y un estribillo en el que Dickinson se sale. El single "Wasted Years", obra de Adrin Smith, es un fabuloso y pegadizo tema, que, aún teniendo partes netamente heavies, muestra una inclinación comercial arropada por su estribillo. La de veces que habré escuchado esta canción. "Sea of Madness" nos presenta a unos Maiden que empiezan a jugar con el progresivo, como luego harán en su siguente trabajo "Seventh son of a Seventh son". Un himno de sus conciertos se ha convertido la genial "Heaven can wait", con una parte central casi concebida para corearla en vivo (he tenido la suerte de vivir esa experiencia). Uno de mis favoritos es "The Loneliness Of The Long Distance Runner", tema largo y complejo, como casi todos los de Steve Harris, con unas lineas vocales trepidantes, y un estribillo clasico a mas no poder. Las guitarras sintetizadas cobran mas importancia en el single "Stranger in A Strange Land", tema mas lento y melodico de lo habitual, el cual, por cierto, tengo en versiob single, que tiempos... La potencia y velocidad vuelven con "Deja Vu", y precede a la perla del disco, "alexander the Great", tema largo, epico, complejo, y donde Dickinson vuelve a demostrar su exquisito estilo cantando. Señalar por cierto que este es el unico disco en el que nuestro admirado Bruce no aporta nada en la composición. En definitiva, un disco genial, al mismo nivel que sus anteriores obras, y que supuso un acercamiento a nuevas miras, que posteriormente plasmaron en su posterior "Seventh son of a Seventh son", no exento tambien de polemica.

Ficha de Disco enviada por
pitopocho
el 13 de Noviembre de 2006
visitantes