Segundo disco tras quedarse en trío, es mas maduro y pausado que todo lo anterior. Y Ojo, son de Gales.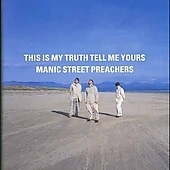 Sinopsis
James Dean Bradfield - Vocal, Electric Guitarras acusticas y electricas
Sean Moore - Bateria y Programacion
Nicky Wire - Bajo

1. Everlasting
2. If You Tolerate This Your
3. You Stole The Sun From My
4. Ready For Drowning
5. Tsunami
6. My Little Empire
7. I'm Not Working
8. You're Tender And You're
9. Born A Girl
10. Be Natural
11. Black Dog On My Shoulder
12. Nobody Loved You
13. S.Y.M.M.

15. Black Holes For The Young - (studio)

Crítica


Puntuación
del crítico: 8

Después de años de verlos aparecer en revistas rockeras, y con el unico referente de su tema "Revol", de su tercer trabajo "The Holy Bible", Manic Street Preachers era un grupo basicamente desconocido para mí. Aunque siempre los emparentaban n sus inicios con el movimiento punk, y destacaban sus inluencias de Guns n' roses, no había algo que hiciera que me interesara por ellos. Hasta que llegó "If You Tolerate This Your Children Will Be Next", exitoso single de este "This Is My Truth Tell Me Yours", e himno automatico para el grupo. Me impacto tanto la canción, que inmediatamente me compré el disco, y me encantó. Una vez analizado con el tiempo y comparado con otros trabajos anteriores, descubres una obra mas calmada y sensible, mas íntima, con mucha menos rabia que la primera trilogía de la banda (aun con el desaparecido guitarrista Richey James Edwards) y que sigue la senda del anterior "Everything must go", sobre todo en el uso de arreglos, y medios tiempos.


La inicial "The everlasting" prepara el terreno: guitarras acusticas, violines de fondo, y la siempre carismática voz de James Dean Bradfield. Todo con una producción exquisita, como exquisito es el gusto de este hombre con la guitarra. Similar en su concepción es "If You Tolerate This Your Children Will Be Next", fantástico tema y autentica proclama antifascista, con el tema de la guerra civil española de fondo. Por meritos propios se ha convertido en uno de los mejores temas de la decada pasada.


El nivel de energía y positividad se dispara con "You stole the sun from my heart", pegadizo como él solo, y estilisticamente herencia de su anterior trabajo, para de nuevo caer en picado con "Ready for Drowning", tema lento e intenso, con su buena carga acústica.
Y llega otra maravilla de este trabajo, "Tsunami", maravillosa cancion con unas lineas tonales sorprendentes, y unos arreglos que se encajan como un guante. Lo malo, que la tuvimos que aguantar como sintonía de una cadena de televisión que casi consigue que la deteste. No fué el caso.


"My little empire" contiene un genial riff de guitarra, en su version mas acústica, y es un tema triste como pocos, pero de profunda belleza, gracias en parte al cello que lo acompaña. "I´m not working" tampoco eleva la temperatura del disco, al tratarse de otra cancion lenta, intimista, que se hace algo pesada. Mucho mas alegre es "You´re tender and you´re tired", que a golpe de piano, y con una simpatica parte silbada, me levanta el animo del album, una de las que mas me gustan.


El tema de la homosexualidad se trata en Born a Girl, con sólo la voz de James, su guitarra, algo de teclado y poco mas, desnudez al poder.
Mucho mas romantica es "Be natural", de perfecta melodía, y con otra impecable leccion vocal de Bradfield, y mucho mas optimista que lo anterior, al igual que "Black dog in my Shoulder", con un ciero sabor añejo que trae efluvios a decadas anteriores. Para ir acabando, "Nobody loved you", otro genial tema con una gran linea melodica, que recuerda a su anterior trabajo, "Everything must go", y "S.Y.M.M.", cancion que sirve como protesta contra la policia britanica y su actuacion en el triste episodio de Hillsborough, el campo de futbol .


Y eso es todo. Luego les perdi un poco el interes con su posterior "Know your enemy", para de nuevo abrazarlos en el ultimo "Lifeblood", pero para siempre quedará este disco y el triste recuerdo sentimental que me trae.. Soy de los que me regocijo en la melancolía, y en este disco la hay a raudales.

Ficha de Disco enviada por
pitopocho
el 5 de Febrero de 2007

visitantes