Comorlrl? Korn en acustico??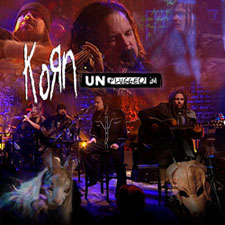 Sinopsis
Reginald Fieldy Arvizu: bajo
Jonathan Davis: gaita, voz
James Munky Shaffer: guitarra

Musicos invitados: The Cure, Amy Lee de Evanescence, y Terry Bozzio.

01. Blind
02. Hollow Life
03. Freak On A Leash (con Amy Lee de Evanescence)
04. Falling Away From Me
05. Creep (versión de Radiohead)
06. Love Song
07. Got The Life
08. Twisted Transistor
09. Coming Undone
10. Make Me Bad/In Between Days (con The Cure)
11. Throw Me Away

Crítica

Puntuación
del crítico: 7

Desde luego llama la atencion que Korn se atrevan a mostrarse en un formato complicado como es el acústico. Se puede ver de dos maneras: o como una muestra mas de la decadencia en la que esta envuelta el grupo, tras algunos discos mediocres, y la deserción de dos de sus miembros originales; o como una apuesta valiente con la que demostrar que se puede enfrentar a un reto como es el coger canciones tan jodidas, y transportarlas a este tipo de concierto.


Prefiero quedarme con esta idea, pero otra cosa son los resultados.
Lo primero que me llama la atencion es la ausencia de temas de sus dos primeros discos (salvando Blind), aunque pensandolo con lógica, son los mas enrevesados y jodidos como para rehacerlos en este formato. Pero escuchando Blind, se podian haber arriesgado.
Y luego, que cuatro de los temas sean del ultimo trabajo de los de Bakersfield, el no muy celebrado "See you on the Other side". Aunque alguno de ellos me atrae mas en este disco que en la version original.
Completan el concierto dos de sus mejores temas, del multimillonario "Follow the Leader", y otros tantos del Issues, nada del "Take a look at the mirror", y uno de Untouchables, así como una sorprendente versión del celebérrimo Creep de Radiohead, bastante fiel a la original. Señalar especialmente la aparicion de esos genios que son The Cure, a los cuales el tiempo los ha puesto en su sitio, y grupos de tendencias tan opuestas a ellos, sobre el papel, como Deftones o los autores de este unplugged, no han dudado en señalarlos como una importantisima influencia. Aquí mezclan ese gran tema de los de Davis, Make me Bad, de su vilipendiado ( y no se porque) Issues, y lo unen a esa joya que es In Between Days, con cierto aire decadente , por la melodía, resultando un experimento de lo más sobresaliente.


En lineas generales el disco me parece interesante por el tratamiento que hacen de las canciones, empleando instrumentos originales, modificando melodias, cambiando la violencia y agresividad clasica por un aire misterioso y triston que embellece ciertos pasajes, pero echo de menos temas mas sobresalientes de su discografía, así como la famosa gaita de Davis.


El futuro de Korn se me antoja complicado. No me gustaron especialmente sus dos ultimos discos, pero les debo mucho, gracias a sus primeros trabajos, asi que seguire ahi escuchandolos. Lo mismo suena la flauta, o incluso la gaita.

Ficha de Disco enviada por
pitopocho
el 12 de Marzo de 2007
video
visitantes