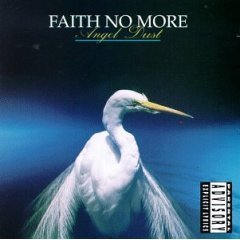 Sinopsis
Mike Patton, voz
Jim Martin, guitarra
Roddy Buttom, teclados
Billy Gould, bajo
Mike Bordin, bateria

1. Land Of Sunshine
2. Caffeine
3. Midlife Crisis
4. RV
5. Smaller And Smaller
6. Everything's Ruined
7. Malpractice
8. Kindergarten
9. Be Aggressive
10. A Small Victory
11. Crack Hitler
12. Jizzlobber
13. Midnight Cowboy

Crítica


Puntuación
del crítico: 9

Poco a poco, el tiempo les está haciendo justicia. Lo que Faith no more supuso en el panorama musical de los noventa fué tan grande, que sin ellos no tendriamos muchos grupos que han bebido de su esencia, y ésta es su obra maestra. Aunque ya revolucionaron el mercado con su anterior "The Real Thing".


Abrimos con "Land of Sunshine", y observamos a los Faith no More de siempre, con una notoriedad, Mike Patton suena mucho mas maduro, mas grave, menos nasal, menos Anthony Kiedis, vamos; por lo demas, la conjuncion de personalidades de siempre, la guitarra rockera de Martin apuntando la dureza, el bajo picado de Gould, el peculiar estilo tocando de Bordin a los parches, y los elegantes teclados de Bottum. Para "Caffeine", le damos el protagonismo al barbudo guitarra, siendo este el tema mas puramente heavy y caotico de este trabajo. Eso sí los teclados nos recuerdan de quienes estamos hablando.


"Midlife crisis" fué el primer single del disco, y todavía lo recuerdo emocionado en Sevilla, de teloneros de Guns n`roses. Temazo impresionante, himno donde los haya, un Patton cantando con un estilo diferente a lo anterior, y una tremenda base ritmica. Coqueteando con el Pop, "RV" se basa basicamente en el piano y en la voz de Patton, entragandonos un curioso tema, de agradable melodía, y cierto aire burlón. "Smaller and smaller" nos presenta otra vez las guitarras como protagonistas, con un ritmo bastante tranquilo y epico, y un Patton apuntando hacia donde derivaria en el futuro respecto a niveles de agresion. De autentica maravilla tengo que tildar "Everything's ruined", con una base contundente, sobre todo en la bateria, y un Patton algo mas de la linea the "The Real Thing", volviendo a rapear, hasta que el estribillo nos muestra su grandeza como interprete, entregandonos maneras pop, de esas que tanto tuvieron que joder a Jim Martin. Simplemente imprescindible.


Y de los coqueteos con el Pop al rock salvaje y casi industrial de Malpractice, bastante bastante bestia, todo ello adornado con teclados, y creando momentos bastante oscuros y tétricos. "Kindergarten" es bastante clásica en su estructura, sin excesivas sorpresas, pero no por ello baja el alto nivel del disco.


Otra genialidad, "Be agressive", que no duda en combinar organos de Iglesia con ritmos funkies, y un estribillo a cargo de varias cherleaders, que entiendo, o supongo, tuvieron que influenciar de alguna manera a Marilyn Mason. Pensando bien, claro.
De lo mejor de la cancion, la voz de Patton. Y poco puedo decir sin dejarme llevar por la emocion cuando hablo de "A small Victory", preciosa de principio a fin, con ese tono oriental, y esas partes algo mas subidas de decibelios. "Crack Hitler" tira tambien de bajo funky, con Patton cantando con la voz distorsionada, sirviendo como preaumbulo a partes en las que suena una especie de arenga, bastante acorde con el titulo del tema. No es de las que mas me atraen. Desquiciante es el comienzo de "Jizlobber", con un piano desafinado, y una base muy heavy. De lo mas agresivo de Angel Dust, con Patton berreando como posteriormente haria y de que manera en "King for a day, fool for a lifetime". Y que decir de la version de la banda sonora de la genial pelicula "Midnight Cowboy" (con la magistral actuacion de Dustin Hoffman), aqui la llevan a su terreno, y la incluyen sin complejos creando un tema precioso. Menos complejos mostrarian aun para incluir "Easy", version de los Commodores de Lionel Ritchie, y rodar un video en el que se muestran rodeados de travestis. Seria esa la gota que colmo el vaso para que Jim Martin se fuera de la banda? Por cierto, Mike Patton se sale en este tema.

Ficha de Disco enviada por
pitopocho
el 27 de Marzo de 2007
video
visitantes